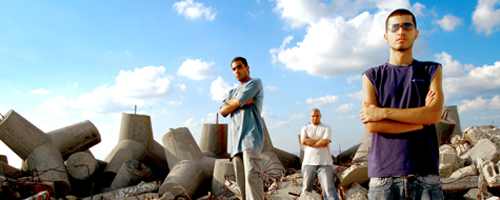 Middle East Studies Center presents documentary, concert
The documentary Slingshot Hip Hop (2008) will be shown at the Salmon Street Studio tomorrow evening.
The screening is the latest in Portland State's Middle East Studies Center film series. Following the event will be an actual performance by the documentary's subject, the rap group DAM, which is free and open to all ages.
The film follows three Palestinians, Tamar and Suhell Nafar and their friend Mahmoud Jreri, who decided to use rap music to express their views about their lives in Israeli-occupied Gaza and West Bank.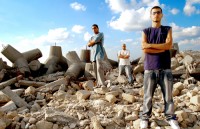 DAM, which formed in 1999, is short for "Da Arabian MCs," but also derives from the Arabic word that means "to last forever" and from the Hebrew word for "blood."
Slingshot Hip Hop captures the trio's exploits as they begin their music careers in hip hop and rap. They talk about the problems of poverty in the region and the persecution they face because of their ethnicity. DAM was influenced partly by American hip hop, partly by Arab literature and poetry and partly by the lives the group's members have lived.
Palestinian hip hop expresses roughly the same ideas expressed by hip hop artists around the world, as well as many of the themes of American hip hop such as racism, inequality and poverty, said Elisheva Cohen, who works for the Middle East Studies Center and helped set up the event.
In one scene, a member of DAM is warned by an Israeli police officer not to speak Arabic in the Hebrew zone of Gaza. In another, the DAM members are in a car stopped at a checkpoint and note that it will take eight hours to get to a destination only 15 miles away. Once they get past the checkpoint, they come to a wall that is used to separate the Israeli and Palestinian sections of the city. 
The group explains that this wall serves to keep Palestinians trapped such that they can't outgrow their communities. In an act of defiance, DAM spray-paints their logo onto the wall. The film makes frequent comparisons between Palestinians in Israel and blacks in the United States.  
DAM meets other hip hop artists in Palestine, including Mohammed Al Farra, who is unable to travel from Egypt through Israel to return to Gaza because Israel controls all of the entrances into Gaza. Another is Abeer, an all-female Palestinian hip hop group that seeks to represent an image different from what people normally think Muslim women should live up to.
Cohen said she has watched DAM concerts for a long time and so has much of the faculty at the Middle East Studies Center. When DAM decided to go on tour in America, their agent asked the center to work with them to plan this concert together with the Portland State Arab Persian Student Organization, Students United for Palestinian Equal Rights and Zulu International.
After the 90-minute showing of Slingshot Hip Hop, the film's director, Jackie Reem Salloum, will make some remarks about the film and the purpose behind it. At 8 p.m., DAM will perform live in concert.
It promises to be a great night for anyone who enjoys rap, hip hop and inventive political protest.