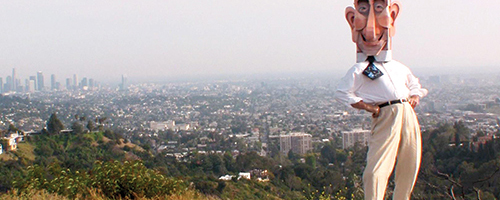 Northwest Film Center to screen Beauty Is Embarrassing
Why can't great art be fun? That's the question that encapsulates the career of pop art pioneer Wayne White, one of the founding artists of Pee-wee's Playhouse and the subject of Neil Berkeley's 2012 documentary Beauty Is Embarrassing. the film screens this week at the Northwest Film Center.
White is the master of a grand and weird world —his work as a puppeteer and art director for many memorable music videos and commercials in the '80s and '90s can attest to that. But he's also a Southern-born family man who declares unabashedly that art is entertainment and that humor is sacred, which makes him a refreshing and joyous subject. I had never heard his name before watching the film, and I now consider myself a huge fan.
There have been arguments that White's life is a little too unremarkable to warrant an entire film. And, on the surface, it's obvious where this complaint comes from: Although he was raised in Chattanooga, Tenn., his parents were largely supportive of his creative pursuits. They, along with his first-grade teacher, noticed his early gift for drawing and encouraged him every step of the way. Although he has a few anecdotes about his art being met with resistance and his need for rebellion, they are more hilarious than tragic.
The film follows White during his college days, his move to the big city (Manhattan) and the start of his career as a cartoonist, until he lands a job on Pee-wee's Playhouse. The crew struggled during the first season, which was shot in New York, before the show moved to Los Angeles. But the tales of rickety sets, low budgets and tiny dressing rooms don't seem all that daunting when your job is to create puppets of blue dogs.
But that's the point of Beauty Is Embarrassing: White is neither pretentious nor tortured—he's actually legitimately funny, and not in a funny-strange kind of way. His studio is filled with fantastic drawings, homemade puppets and relics from his past work, but the man himself is fairly normal. White is bearded, cynical, anxious about money and his work, and willing to poke fun at himself and the entertainment industry.
White's recently reinvented his career as a pop artist, creating paintings of kitschy phrases about life, art and Hollywood imposed on thrift-store landscape art. The snobby way that the art world reacts to work that's both innovative and funny is one of the things that makes you appreciate White most of all.
Beauty Is Embarrassing features commentary by some well-known collaborators and admirers of White, including Paul Reubens, Matt Groening, Jonathan Dayton, Valerie Faris and designer Todd Oldham. We get to meet his wife, cartoonist Mimi Pond, and their two children, as well as his college friend Mike Quinn—himself a talented artist—who stayed behind in Tennessee when White moved to the big city.
White's story is not very profound or dramatic, which is what makes it valuable. No matter what kind of artist you are, his story feels accessible: You don't have to be a certain kind of person to be immensely talented and visionary or to make beautiful things.
As a person, White is also accessible. His friendly brand of cynicism and obscenity-laden quips are the foundation of the film. He's a guy you might know. When he delivers his hilarious diatribe on the American Dream, I was eerily reminded of another eccentric Tennesseean: my dad.
Berkeley's documentary occasionally feels too gimmicky—like when he translates White and his wife's meeting into a comic strip—but for the most part, Berkeley smartly lets White take over. The fact that the director chose White for his subject is inspired.
Northwest Film Center presents
Beauty Is Embarrassing (2012)
Whitsell Auditorium
Friday, Nov. 2, 7:30 p.m.
Saturday, Nov. 3, 7 p.m.
Sunday, Nov. 4, 4:45 p.m. and 7 p.m.
Monday, Nov. 5, 7:30 p.m.
$8 students and seniors; $9 general
The man and his work challenge the notion of what we expect art to be—too hip, too serious, too full of itself. But White infuses art with provocative humor and whimsical fun, and the film is ultimately very touching because he's so easy to like.
Northwest Film Center is screening Beauty Is Embarrassing Nov. 2–5 at the Whitsell Auditorium, and White himself will be in attendance Nov. 2.
"We're very excited to have someone like Wayne White visiting the Film Center," Jessica Lyness, the center's marketing manager, said in an email. "Experience as an artist, puppet designer and illustrator is a good fit for other creatives working here in Portland. And we really thank Wieden+Kennedy for helping to make it happen."
I cringe to say that Beauty Is Embarrassing inspires you to live your dreams, but I also love that White makes me say it…and mean it.