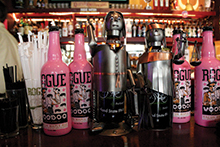 So you're 21 and in college. Congratulations, you made it to the stage of life in which you don't have to drink contraband Keystone Light in a dorm bathroom. The world is your sauced-up oyster. But now that you don't have to sneak suds, where can you go that's not halfway across town?
Rogue Hall
1717 SW Park Ave.
A relative newcomer to the scene, Rogue Hall boasts a tap selection a mite smaller than its Pearl counterpart, but the food menu is intact. Essentially, it's a bigger, livelier Cheerful Tortoise on the west side of campus. It has a pretty big patio, too, so the place is great for spreading out and socializing.
While the Tortoise seems like your parents' college bar, the Rogue seems more modern, and the one you're going to end up telling embarrassing stories to your children about.
Bonus: Sometimes the wackier Rogue offerings from the Pearl trickle into Rogue Hall, such as the Voodoo bacon maple beer, which no human should probably drink.
Cheerful Tortoise
1939 SW Sixth Ave.
It just seems wrong to do a piece about campus bars without mentioning the Tortoise. There is nary an of-age student at the university that hasn't either stumbled back to his or her dorm after a long night at the Tortoise or taken advantage of its dirt-cheap breakfast after a long night of boozing elsewhere.
Cheerful's proximity to campus makes it a no-brainer for most of-age students just looking for a glass of whiskey to nurse. It's a sports-bar-type establishment, so don't expect any haute cuisine. Just stick to something deep fried and soak in the vibe.
Leaky Roof
1538 SW Jefferson St.
This place is only a short jaunt from campus and should be your primary destination for all things alcohol. Specializing in Irish whiskey and scotch, Leaky Roof is a total drinker's establishment.
It has fantastic food pre- or post-buzz, which is always an appealing draw for a night on the town. Furthermore, Leaky Roof recently made itself an all-purpose stop for weekend partiers such as yourself—the joint now offers weekend brunch!
Mummy's
622 SW Columbia St.
Pax vobiscum to the weary traveler who dares wet his whistle in the depths of the underground. Nah, just kidding. Mummy's is totally legit, but man is it weird. For those who wish to seek out the esoteric watering holes, this should be at the top of your list.
On first glance, it just looks like a door. Descend the staircase behind it, however, and enter into Mummy's, an Egyptian bar that's been around since your parents went to school at PSU. Skip the food, as hard as that may be, drink up and check out the belly dancers. It's gonna be a wild night, fellas.
Suki's Bar & Grill
2401 SW Fourth Ave.
If you like stiff drinks and karaoke, this is the place for you. If a quiet glass of scotch isn't quite your speed, Suki's is there to pick up the slack. Long a Portland State mainstay, Suki's is more of the stereotypical campus bar than most, even though it's technically not on campus.
What you'll find at Suki's is a host of regulars from all walks of life who are total hams on a karaoke mic. If you're looking to get schnockered and either laugh at people singing Madonna off-key or get laughed at for singing Madonna off-key, Suki's has your number and then some.
Veritable Quandary
1220 SW First Ave.
If you like your bars semi-elegant and your drinks crafted by a human being rather than poured from a tap, Veritable Quandary is your place. With an outstanding full service menu and some seriously classy cocktails to boot, VQ doubles as an upscale dining option for when parents come to town. Take advantage of this fact.