State board of higher ed approves a $540,000 maximum salary

Editor's note: This story is a revised and expanded version of a breaking news brief that originally appeared on the Vanguard website Sunday, Aug. 5.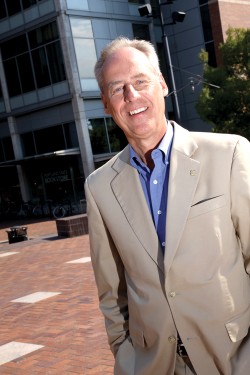 The Oregon State Board of Higher Education has approved a $15,000 annual increase in PSU president Wim Wiewel's state-funded salary, the first increase since 2008.
During its meeting last week, the board set Wiewel's maximum salary at $540,000 per year. Last year Wiewel had the same maximum but only opted to take $468,994.
Wiewel may opt to take the full amount but is traveling overseas this week on university business and was not available for comment by press time.
"There's no reason why he wouldn't [accept the full amount]," said Scott Gallagher, director of university communications. "There are no plans at this time to not accept his total compensation offered to him."
George Pernsteiner, chancellor of the Oregon University System, explained why the raises came this year.
"In the current biennium, faculty and staff have seen pay increases. Therefore, it seemed appropriate to increase the compensation of presidents—some of which is paid from donations," Pernsteiner said in an email.
Pernsteiner also said that most faculty and staff have had 4 to 8 percent pay increases. This led Pernsteiner to recommend that Wiewel's state salary, along with those of the other presidents, be raised as well. The board approved his recommendation unanimously.
Gallagher explained that Wiewel only took part of his salary last year because of budget uncertainties and a list of possible salary reductions the university faced.
"So, even before it got to that point, he wanted to do his part," Gallagher said.
The president's salary comes from two sources: the state and the university foundation, the organization that disburses private contributions. When the board met Friday, it increased the amount that the state pays into the president's
salary to $260,700.
The board recommended that Wiewel accept the remainder of his maximum from the university's foundation, a practice that allows universities to offer more competitive salaries to their presidents.
The board, the governing authority for the seven public universities in Oregon, also approved salary increases for its six other university presidents.
Materials distributed to board members said that the compensation for PSU's president would be similar to that of the presidents of Oregon State University and the University of Oregon, instead of being tied to national averages.
Presidential state salaries have been frozen since 2008.
Pernsteiner argued that even with the raises this year, the presidents of the top three largest universities in Oregon are still receiving slightly less than their peers at comparable national institutions. The inflation-adjusted salary estimate for a comparable university president was listed at $570,000 in board materials.
During the discussion, Emily Plec, board member and communications professor at Western Oregon University,
pointed out that another factor needs to be part of the
discussion.
"There is a voice that's often missing from the table," Plec said.
Plec argued that while university presidents are doing an excellent job, and that their services are needed at competitive rates, the classified staff within OUS is seeing very small increases. She argued that the lowest-paid classified workers are actually worse off than in previous years. The PSU human resources website explains that classified staff generally include office support, technical support, campus safety, trades and maintenance positions.
Plec explained that even though classified employees are receiving cost-of-living adjustments, pay raises are offset by higher insurance premiums and mandatory unpaid furlough days. In her analysis, the lowest classified employees were only receiving a 1 percent pay increase, and the highest members were receiving 4 percent.
"We need to recognize the tensions that inevitably arise," Plec said.
Wiewel's contract expires at the end of the 2012–13 school year. Pernsteiner said that salaries would be discussed again at that point, and that a discussion of the implications of accepting university foundation funds as part of the president's total salary would also be reexamined.
The PSU Foundation has traditionally paid a portion of the university president's salary. Tony Leinwebber, executive director of the PSU Foundation, explained why.
"It's a supplement in order to get to a level we can compete
at," he said. Leinwebber explained that it is a common practice around the country for foundations to pay portions of the university president's salary in order to compete for the best executives.
"It's competitive out there, trust me," he said.
Leinwebber praised Wiewel's efforts as president so far, stating that he is worth the salary he receives. He also said that when Wiewel chooses to decline funds, as he did for the first time last year, it is deducted from the foundation's contribution rather than the state's.
Wiewel's raise will be retroactive to July 1, 2012.