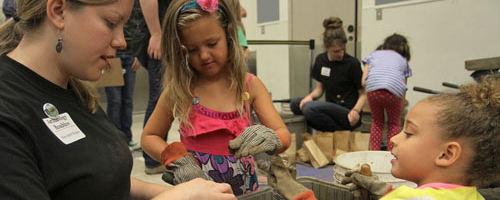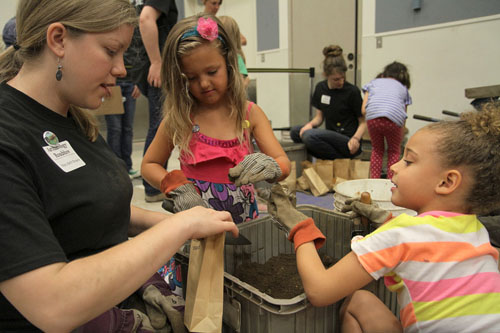 The Oregon Museum of Science and Industry played host on Sunday to the second annual PSU Archaeology Roadshow, a free public outreach event aimed at promoting archaeology in Portland's backyard.
The four-hour event saw 575 visitors of all ages and was staffed by around 80 volunteers from Portland State and the surrounding archaeology community. A panel of experts was on hand to help examine and identify artifacts brought in by visitors.
"We know people like archaeology," said Virginia Butler, a professor of anthropology at PSU, who organized the event with her undergraduate community archaeology class. Community archaeology, she said, is a relatively new way of approaching archaeology that seeks to "build more grassroots support and build more community involvement," around the field.
"Archaeology is relevant to the public; it's not just about the past," said Lyissia Coffey, a volunteer at the event and one of Butler's students. "You learn a lot about yourself." Butler's 14 students were among the volunteers at the roadshow.
Volunteers attended each of the nearly 30 exhibit booths, discussing with attendees such topics as ground-penetrating radar, local discoveries of mastodon bones and the study of peoples through their waste patterns.
"You don't have to go to other countries, to the American Southwest or Central America," to engage in archaeology, Butler said. "We have a lot of really impressive heritage sites in our region."
Indeed, several of those sites are on PSU's campus.
"Archaeology's not always from 'somewhere else,'" said TJ Brown, a master's student studying prehistoric archaeology. Brown staffed a booth dedicated to some of the artifacts uncovered on campus, including glass bottles, porcelain and even a small leather shoe.
"There's lots of really cool history under PSU," Brown said, adding that many of the artifacts found on campus were unearthed in 2002 during construction of the Native American Student and Community Center.
In fact, historical artifacts are often recovered from construction sites.
Jo Reese is a senior archaeologist and co-founder of Archaeological Investigations Northwest, a local firm dedicated to interpreting findings at construction and development sites like that of the NASCC.
"Once you find a [cultural resource] site in Oregon, state law addresses it," she said, adding that the purpose of such laws is to aid in the identification and recovery of any historically significant artifacts from development and construction sites.
Portland's early phases of urban renewal in the 1960s and modern infrastructure projects like TriMet expansions and the Columbia River Crossing have yielded findings as well, Reese added.
Artifacts are often handed down through family lines, as was the case with a small ceramic pot brought to the roadshow by Julia Sylla, a Portland resident who learned of the event on PSU's website.
Sylla said that her mother handed the pot down to her after originally acquiring it in Bolivia. She added that, while it was an heirloom in her family, the pot was "just a pot."
After spending some time with the roadshow's panel of experts, Sylla learned that her pot was "pre-Columbian," which dates the pot's creation to before the arrival of European explorers (such as Christopher Columbus) in the Americas.
Sylla added that she enjoyed her experience with the panel.
"I think it's a really great service," she said. "It definitely makes [archaeology] a little more real."
Artifacts arrived from far and wide, and included a 19th-century iron key from the Oregon coast and a Roman-era coin that was found in Maryland.
"It's been a fun time seeing what the public's been finding out there," said Bob Cromwell, a member of the expert panel and an employee with the National Parks Service at Fort Vancouver National Historic Site in Vancouver, Wash. The Roman coin, he added, was likely someone's keepsake.
While all manner of artifacts were on display, and while people were certainly encouraged to bring in their discovery or hand-me-down, Butler was keen to emphasize that one of the event's priorities was to foster "a sense of archaeology beyond the beauty and wonder of the 'old thing.'" It's just as important, she said, to find out "how many stories it holds.
"As someone once said, 'it's not what you find, it's what you find out.'"
Eager to find out what visitors thought of this year's roadshow, volunteers provided exit surveys that Butler and her next group of students will use when designing future roadshow events.
"I want to see a lot of responses like, 'I had no idea archaeology was this!' or, 'Wow!'" Butler said, adding that she thinks people's expectations will also be realistic.
"Indiana Jones is kind of extreme," she said. "Most people know that's kind of a joke."