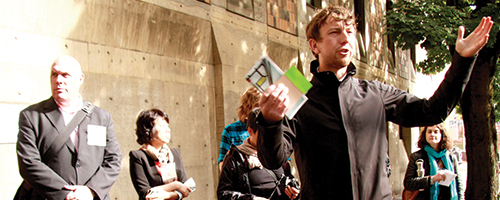 Walking tour showcases sustainability features at university
In Portland, the terms "sustainability" and "green building" are used so often that when such concepts are actually put into use, one can miss them—even if they are literally right under one's feet.
From the fifth-floor courtyard of the Academic and Student Rec Center, the stones that make up the outside flooring seem suspiciously far apart. Instead of drains, vegetation covers a good portion of the patio.
This isn't a sign of shoddy building or dilapidation, though: Rather than sloshing onto the streets or into the city's sewage system, water drains through the cracks and plants, supplying almost all of the non-potable water for this Leadership in Energy and Environmental Design Gold-certified building.
As part of the fifth annual EcoDistricts Summit held at Portland State last week, the Vanguard went on a walking tour of sustainable features in the South of Market EcoDistrict on and around campus.
Led by Fletcher Beaudoin, partnerships director at PSU's Institute for Sustainable Solutions, the tour highlighted some of the roughly 20 sustainability features in the EcoDistrict, one of five in the city defined by the ISS as "a neighborhood or district with a broad commitment to accelerate neighborhood-scale sustainability."
During a brief respite from the rain, Beaudoin praised the recent weather to the tour group, which included members from England, Australia, Japan, Brazil and Italy, among others. "This is the time of year you can actually see the sustainable water features in action."
From the sky bridge on Southwest Broadway, Beaudoin pointed out something else that might not be recognized as a sustainability feature: the bicycle lane pulsing with jacketed road warriors.
Anyone can take the sustainability walking tour.

Here's a link to the map, which is also available from the Campus Sustainability Office:
"If you guys can imagine, about 30 years ago this used to be a four-lane highway, essentially," he said. A cycle track gives more safety to bicyclists by separating them from traffic, in this case with a row of parking. There was a dual purpose for the creation of the track, though, as Beaudoin pointed out: "We wanted to make it easier for our students to get across here without dying."
Aside from the track, the district is a pretty hard place to bike to, Beaudoin said. The ISS is working with the city to find other avenues to get bikes and people into the south downtown area since Portland's bike infrastructure, while good by U.S. standards, still lags behind other cities, especially some in Europe.
"I was giving a tour to the mayor of Copenhagen and a delegation, and when they came here and looked at our bike infrastructure they kind of laughed at us," Beaudoin said.
The sky bridge itself is in a way a sustainability feature, carrying the piping for the district energy system that connects 17 buildings on campus, efficiently redistributing energy around campus for heating and cooling.
Electric Avenue, on Southwest Montgomery Street between Broadway and Sixth Street, is another sustainability feature that might be easy to miss if you're not looking for it. Through a partnership with Portland General Electric, the city and a few others, PSU has helped set up a row of seven charging stations for electric vehicles. The stations have varying degrees of strength, from a quick 30-minute charger to a longer 8-hour one.
The electricity is free, while parking is paid for like any other spot in the city. The idea, Beaudoin said, is for people to drive their electric cars to the Avenue, hop on the MAX to go to work, and have their cars
charged by the time they're ready to go home.
It's also a response to the fact that chargers are currently placed somewhat sporadically throughout the city. The question, Beaudoin said, is, "How do we concentrate some of these charging stations and connect them to some of the best public transit in the state?"
That transit, along with bicycles and other modes of cleaner travel, has seen its share of student and faculty riders growing over the last decade.
From 2000 to 2011, the percentage of students driving alone to PSU has dropped from 41 percent to 19 percent, while mass transit usage has climbed from 32 percent to 44 percent, and bicycling from 3 percent to 12 percent. This prompted an English member of the tour to remark, "Students drive their cars to university? Strange."
Standing in front of the Bike Hub on Southwest Sixth Avenue and Southwest Harrison Street, Beaudoin explained the significance of the center in PSU's green plans.
"We're taxing the bad," he said, referring to parking prices, which have increased year after year. "And we've used that to support, I would say, the good, which is biking."
For $30 a year, students and faculty can join the hub, which has tools and places to work on one's bike, and technicians on site to lend advice.
"It's the idea of 'how do we empower students, faculty and staff to be able to take responsibility for fixing their bikes,' which we think will increase our ridership," he said.
While on the green roof of the Rec Center, built in partnership with the city, Beaudoin noted an interesting fact about the swimming pool: It's bomb-proof because of the city's archive right beneath it.
Looking east, where Mount Hood would be on a less-gray day, one of the tour members asked about a decidedly non-green feature in the EcoDistrict: a series of block-large surface parking lots.
"So, those are problems," Beaudoin said. They're located on what was going to be the site of the Oregon Sustainability Center, but the project hit hard times, and failed to get funding from the legislature. "It was going to be one of the world's biggest living buildings," he said.
Richard Kaneko, a member of the tour who is in his final year of the architecture program at the University of Oregon's Portland campus, said a lot of people ask him if he's studying some type of "green" architecture. "All of the topics in architecture sort of are trying to relate back to some sustainable goals," he said. His thesis is on a sustainable topic: cleaning up the Willamette River. When asked if he thought the general public has misconceptions about sustainability and green building in general, he replied that though there has been some criticism about LEED and other certifications, if you look at the big picture, at least people are thinking about it.
"I can actually talk to people now and say 'LEED,' and they know what I'm talking about," he said. "Everyone knows what sustainability is, even if it's just the buzzword. I think people are at least conscious that something's going on."