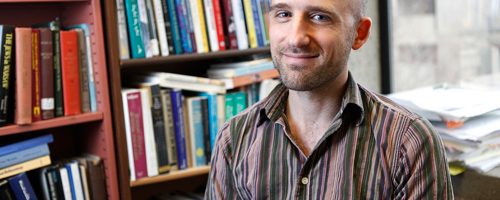 [portfolio_slideshow id=47245]
With the aid of Portland State professor Natan Meir, a new museum funded by the Federation of Jewish Communities of Russia recently opened in Moscow to international acclaim.
Housed in a massive historical structure, the Jewish Museum and Tolerance Center is a unique collection of interactive exhibits showcasing the history of Russian Jews. Meir was one of five experts asked to help bring their story to life.
"It tries to tell, in a sense, all of Jewish history," Meir said. "But its focus is really between the 18th and 20th centuries, when Russia expanded and took over one of the largest Jewish populations in the world."
Meir is an expert in Russian Jewish history and is in his fifth year teaching Judaic studies at PSU. He began working on the Moscow project as a consultant for its content committee in 2007. He explained that it was a new and enriching experience.
"I had never worked on a museum project before, but I felt like I took to it quite naturally," he said. "It was exciting for me to try and think about how to present a history that I'm very familiar with in a different way."
Professor Benjamin Nathans, from the University of Pennsylvania, served as chairman of the content committee. The group worked as a team to brainstorm ideas about how to present history in engaging ways.
"A traditional museum is based on artifacts," Nathans said. "This museum has some artifacts, but it's much more interactive and high-tech. There are multiple levels to any given exhibit, and the viewer decides how deeply they want to go."
In order to reach a wide audience, they focused on making the museum accessible and interesting for people from all walks of life. The interactive aspects contain digital simulations, which immerse visitors in specific environments such as Jewish marketplaces and synagogues.
Not surprisingly, the Holocaust and World War II period plays a significant role in the museum. The exhibits in this section contain a large collection of films, letters and even some military artifacts.
"It's almost a museum within a museum; you could spend two hours just in that part alone," Meir said. "It includes a Soviet tank and airplane, which are actually installed in the museum."
Meir said presenting the Jewish tragedy was a delicate task. Since World War II was fought on their home territory, it is considered a national tragedy by all of Russia.
"Russian Jews were specifically targeted by Germans for annihilation, whereas other groups weren't," Meir explained.
The tolerance center is the last segment of the museum. The intention is for visitors to reflect on what they've learned about one minority group's struggle in Russia, and then try to understand more about hatred and xenophobia in general.
"It's too early to tell exactly how broad the tolerance message will be, but I think any reasonable person can only applaud an effort to promote tolerance in Russia today," Nathans said.
According to Meir, Russia's president, Vladimir Putin, has voiced specific support for the project and donated one month of his salary to the museum. The association with the Russian government has garnered much international attention.
Now that their contribution is complete, both professors look back on the experience fondly. They take a lot of pride in their collective accomplishment.
"For each of us, this may be the thing we do that reaches more people than any other project," Nathans said. "I think for many people it's an encounter with a foreign culture that can expand their horizons, expand a sense of what it means to be human."
As for Meir's horizon, he appears to have been bitten by the museum bug. He's now been involved with a number of other similar projects, including a current collaboration with the Oregon Jewish Museum for an exhibit that will open next year.
Meir is organizing a trip to give Portland community members a chance to see the museum. For anyone interested in making a visit to Moscow soon, he offers this piece of advice: "I recommend going when it's warmer than now. I just went in December, and it was very cold."