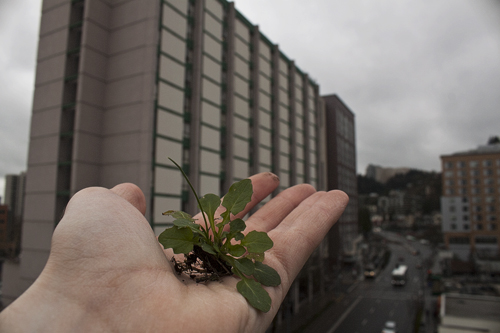 Portland State is currently competing in a national residence hall conservation challenge. The Campus Conservation Nationals started on Feb. 18 and will keep going until the start of "dead week" on March 11.
Right now, the university is competing against more than 175 colleges and universities across the U.S. looking to show off their "greenness" by reducing energy and water use in campus residence halls as well as by lowering total greenhouse gas emissions on campus.
CCN is the nation's biggest electricity- and water-reduction competition for colleges and universities. The competition focuses on on-campus housing because residence halls account for a large chunk of the energy use,
water use and total greenhouse gas emissions that contribute to a university's ecological footprint.
Instead of counting all on-campus housing options as part of the challenge, PSU's chosen to use only the Broadway Housing Building, Ondine Residence Hall and Stephen Epler Residence Hall. The three dorms are competing against each other and will then collectively represent PSU in the national competition. What this means: Only 30 percent of PSU-owned residence halls are represented, but we all will have the unequivocal pleasure of sharing whatever successes or failures the exclusive three end up with.
So what does this exclusive club of Ondine, Broadway and Epler have in common? They are where First Year Experience students—aka freshmen—live.
To put it bluntly, PSU has found a cute way to leave out the majority of its students while targeting a tiny demographic of still-acne-ridden teenagers. Granted, we get a lot of funding for these blemished youths, but it still seems preferential, like the university's playing favorites despite the fact that, according to the 2011–12 Annual Statistical Report, PSU's average student age is 27.9 years.
The challenge may also seem redundant to residents living in Epler, which is already designed to "capture the benefits of natural elements" according to PSU's website. The dorm uses fans to preheat air and relies on its building design to eliminate the need for air conditioning.
Broadway also has many energy-efficient designs. It uses low-flow fixtures that reduce water usage by as much as 20 percent. The building also saves on energy by using high-efficiency lighting in common areas, heat-controlling window films, Energy Star appliances and a slew of other eco-friendly trimmings.
Essentially, PSU has entered its students into a competition that centers on reduction even though we've already reduced our
"footprint" just by choosing those housing options in the first place.
PSU's website further insults its students by asking: "When was the last time you dined by candlelight?" Considering the fact that candles are among the restricted items in all PSU housing, it's irrational and insulting to ask housing residents why they aren't choosing to use them.
Environmental awareness and sustainable practices contribute to PSU's appeal—are, perhaps, the university's biggest appeal. Holding an arbitrary competition that only a select group of students can participate in seems more like a publicity stunt than an honest attempt at creating a better, more sustainable world.
Still, the conservation challenge isn't entirely exclusive to our already sustainably inclined housing residents. There have been a handful of campus-wide events that every student who stumbles upon can participate in. Key word: stumble. It's not like the university's really publicizing this.
Coming up on March 11 is a "drop a load of e-waste" day in Ondine's lobby at 1912 SW Sixth Ave. Students can bring their old cell phones, laptops and other motley electronics they no longer use, and PSU will recycle them.
There's also a "Spring Community Carnival" at the Native American Student and Community Center to celebrate sustainability with food, games and "fun."
Regardless of the university's motives behind the competition, and its somewhat futile choice of residence halls, perhaps more students will get into the conservation spirit and take it upon themselves to make their own homes more sustainable.