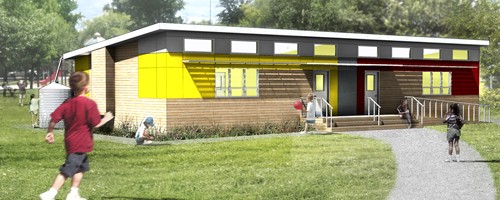 Portland State's Department of Architecture creates prototypegreen modular classrooms
Portland State's Department of Architecture will be seeing their creations come to life: portable and energy-efficient classrooms that will relieve overcrowding in classrooms all over the country.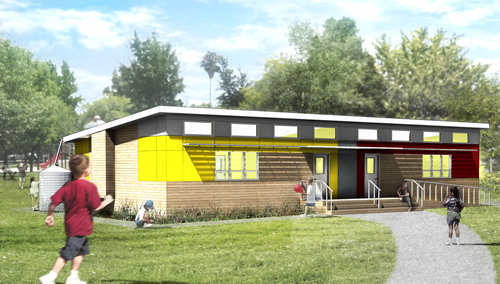 These classroom prototypes, known as the Smart Academic Green Environment, are designed to use half the energy a typical modular classroom uses, increase the building's portability and improve indoor air quality.
The project began when Margarette Leite, a PSU professor in the Department of Architecture, and her colleague and partner, Professor Sergio Palleroni, started to look at ways to make Portland schools more sustainable, Leite said. During their initial research, they kept running into problems with modular classrooms.
The classrooms will be built because there is really no healthy "green" modular classroom alternative that is affordable for schools, Leite said.
"There are some really great 'green modules' out on the national market that are more expensive, but if we are to compete with what is currently being purchased by school districts, we need to be competitive with the price, which is tough to do but it needs to be done.
Current modules are not built as suitable classroom spaces for large numbers of active bodies. They are designed as short-term and temporary office spaces," Leite said. "Because of this, the buildings can have a number of serious deficiencies when it comes to learning environments."
Leite added that many issues found in current modules on the market include poor air quality. Often, materials used to built such modules are of lesser quality, which adds to higher concentrations of volatile organic compounds—organic chemicals that have a high vapor pressure at regular room temperatures—that add to poor air quality. Asthma and other respiratory issues are common in such environments.
These air systems found in such modules are often very noisy and disruptive to the teaching and learning environment. The few windows often found on the modules create a lack of natural daylight within these classrooms, and low ceilings make modules unappealing to the eye.
"We must do better for our kids," Leite said.
To address the issues with current modules and to look for healthier alternatives, Leite and Palleroni decided to hold a symposium in March 2010, along with the American Institute of Architects of Portland, which hosted a one-day community charrette that included PSU, University of Oregon, Oregon school district officials, modular manufacturers and many sorts of teachers and professionals.
After the symposium the group was eventually awarded status as an official Oregon Solutions project and allowed them to create partnerships within the community to make the project a reality.
Two national distributors have already purchased these classrooms and the prototypes will be built this summer. One classroom will go to the 2012 GreenBuild Conference, held this November in San Francisco, and the other will be placed at Olympic Elementary School in Chehalis, Wash.
Each classroom will feature double the number of windows of a regular classroom, a heat recovery system that will drastically reduce or completely eliminate the need for heating, ventilation and air conditioning systems, an increase in airflow and a steel floor instead of a typical concrete foundation that makes portability easier.
Though the classroom will cost 15–20 percent more than a typical portable classroom, because of easier portability, energy efficiency and decreased periods of time when the classroom is not in use, in the long run the classroom will cost less.
Since these classrooms will serve as prototypes to test performance, monitoring and research will be carried out by PSU students in the architecture and engineering programs.
"They [the prototypes] will serve as test laboratories as well as a unique opportunity for students to be involved in real-world, hands-on service to our communities," Leite said.
The Department of Architecture and Green Building Lab teamed up this spring with multiple partners to create the design plans, including the Institute for Sustainable Solutions, State of Oregon Building Codes Division, Portland Public Schools and local portable manufacturer Blazer Industries, Inc. Blazer will build the classrooms this summer with donated materials and labor.
"We were invited to participate in an AIA Activism in Architecture Symposium at PSU in March 2010," said Blazer Project Manager Kendra Cox. "A year later PSU and Oregon Solutions asked us to participate in the Green Portable Classroom initiative. Since then, we have been actively involved in the process."
According to Cox, Blazer has assisted in the past with the design of modular buildings from a structural and constructability standpoint. The company has also provided pricing for several models.
Blazer plans on continuing their relationship with PSU as the prototype is designed, built, distributed and analyzed.
"We are also interested in opportunities to work with PSU on other construction projects," Cox said. "We appreciate the efforts the PSU and Oregon Solutions groups have made to collaborate with us on this project, and we value the partnership between university and business."