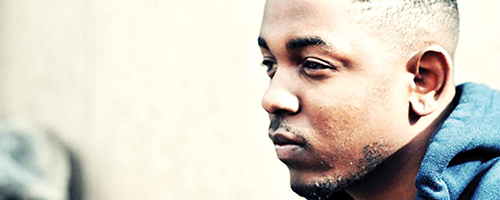 Can Kendrick Lamar's new album transform him from indie darling to major label star?
If you want to see a fun show, go to a rap concert. But if you want to see pure and unadulterated fandom from every single person in a sold-out show, then you should have been at the Kendrick Lamar concert last Saturday at the Roseland Theater.
Devotees of independent rap can be some of the best fans, in part because they feel that they have had a hand in the up-and-comer's success. With the release of Lamar's major label debut, good kid, m.A.A.d City, the energy was high at the Roseland. That night, Lamar promised to lose nothing in the transition—and maybe establish new ways for others in the genre.
Born and raised in Compton, Calif., Lamar grew up idolizing California rap greats like Tupac Shakur and Dr. Dre, and their success in the '90s inspired his early dedication to music. At 16, his mixtape released under the name
K-Dot., Youngest Head Nigga in Charge, led to a record deal with Top Dawg Entertainment, an independent record label based in Los Angeles. Working with fellow TDE signees Jay Rock, Ab-Soul and Schoolboy Q (known collectively as the Black Hippy crew), Lamar put out some promising mixtapes.
Free mixtapes have always been a huge part of the rap industry, and in the Internet age they give artists a way to develop a fan base and establish credibility on a much larger scale. The online mixtape trend is based more around skill than marketability—though it can often lead to mainstream success, exemplified by artists like A$AP Rocky, Tyler, the Creator and his Odd Future crew and Danny Brown.
Lamar used his fan base and connections from previous mixtapes to release his most complete work yet, Section.80, in July of last year, to critical acclaim. Section.80 impressed artists throughout the industry—including now-collaborator Dr. Dre, who signed Lamar to Aftermath Records.
Now 25 years old and arriving at his prime, Lamar has developed into an extraordinarily skilled rapper. And while it's apparent from his early successes that Lamar works hard to achieve the musical heights of his idols, his own music reflects an admiration for the genre as a whole rather than focuses on an obvious, singular influence.
Easily varying his rap technique from song to song, Lamar possesses the ability to completely control his tracks with lyricism that not only accentuates the beats but also conveys thematic nuance throughout the songs.
Basically, listen to the music more than once. I'd suggest doing this with any enjoyable song, but Lamar's earnest writing especially lends itself to subtlety—and with multiple engagements, a listener becomes more familiar with the message behind Lamar's music. His skill in this regard is what separates him from other rappers.
Using techniques and abilities to create something more, Lamar shares his ideas with an innate skill, rather than a bland showcase of ability. Any impressive feats of lyricism or musical understanding from Lamar (there are many) serve a purpose specific to the message of the song; and if good kid, m.A.A.d city is anything like Section.80, the entire album will be a piece in itself.
Lamar used Section.80 to give us a look into the world that was around him. It's mostly in a third-person perspective, revealing within the songs the lives and stories of those in his neighborhood: Tales of prostitution, violence and corruption honestly depict the reality of the circumstances in which Lamar grew up. The themes in these songs came together to create a masterful album.
Good kid, m.A.A.d city looks to be a more introspective selection. The album builds on the messages from Section.80 but ultimately focuses more on Lamar's own experience—moving from the visible despair of his hometown into the personal ideas that have shaped him.
The songs Lamar has released so far—"Swimming Pools (Drank)," "The Recipe" (featuring Dr. Dre) and "Backstreet Freestyle"—all express ideas in provocative or harsh tones, indicating a closer relationship with the subject matter. "Swimming Pools" is especially introspective, with one verse devoted to Lamar's conscience rapping in his own head.
There is an emerging theme between the tracks that indicates Lamar may avoid succumbing to the usual pitfalls facing independent artists who switch to major labels.
Most musicians still have messages behind their albums, but the increase of online music sales has downplayed emphasis on the album as a whole in favor of chart-topping singles. Unfortunately, this usually limits the depth an artist can access with the rest of the album.
Some rappers are still able to arrange albums with prevalent themes that connect the tracks and elevate the overall work. Lamar will keep his creative license with the joint venture deal between Interscope Records, Aftermath and Top Dawg Entertainment.
Assuming that good kid, m.A.A.d city is able to achieve success—while still keeping the focused message that his work has had so far—Lamar will have successfully made the transition from the independent scene in a way that few others have.
Lamar's progression in the industry has been based completely on his abilities and work ethic, rather than changing his image or climbing up the ladder behind the scenes. He and the other members of Black Hippy have released such outstanding free work to the public that the industry couldn't overlook them. Lamar is an example of how to go from up-and-coming to top-and-staying.