With so many options, you may not know where to begin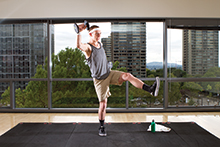 When long hours of sitting at a computer have caused that familiar feeling of fatigue, or when the icy Portland rain makes going for a run feel like an Arctic expedition, remember that the Portland State Academic and Student Rec Center has your back. Simply show your school identification at the front desk (located on the second floor) and enter a recreation wonderland.
This multipurpose facility, located in Urban Plaza, includes cardiovascular and weight-training facilities, a two-court gymnasium, an aquatic center complete with a six-lane pool and 10-person spa, a 32-foot-high rock climbing wall that caters to both bouldering and belaying, an indoor three-lane running track, a gymnasium used for hockey and indoor soccer, quality equipment rental and personal instruction for a wide variety of activities.
For those interested in team-based sports or group activities, students of any skill level can join intramural leagues for a small fee. Leagues run for six weeks each quarter and include sports like indoor soccer, dodgeball and basketball. Also available are student-run Rec Clubs like fencing and tango dancing.
Daily drop-in exercise classes are free to students and membership holders. On top of the already popular Zumba and yoga classes, Group X will be adding women-only classes, beginner's yoga and an exciting class called R.I.P.P.E.D., which stands for resistance, intervals, power, plyometrics, endurance and diet. Fitness and Health Promotions Coordinator Erin Bransford said R.I.P.P.E.D. might be her new favorite class. With Group X classes, Bransford said, "You know you're going to get a safe and effective workout."
For students who want one-on-one training, the Rec Center offers personal training for around $20 a session, with a free orientation.
If being in a gym feels too constrained, students can explore Portland's surrounding wilderness by taking advantage of the Rec Center's Outdoor Program. It offers guided hikes, cycle trips, rock climbing clinics, kayaking and even snorkeling excursions. "[The Outdoor Program] gives people who might not have the opportunity to get out in the Northwest a safe and controlled environment to do so," said Kyle Yeager, one of the program's trip leaders. "It's also a good opportunity to make new friends."
To aid more adventurous folks wanting to explore the great outdoors on their own, the Rec Center offers several safety training courses, including first aid and water safety.
Whether you're an inexperienced yogi or a spry rock climber, a competitive kickballer or a rugged adventurist, a muscled weight lifter or new to gyms altogether, the PSU Rec Center has something to get you active, keep you motivated and help you stay fit—and have fun while doing it.
---
Academic and Student Rec Center
(labeled ASRC on campus maps)

1800 SW Sixth Ave.
For more information about the Rec Center's facilities, associated schedules, classes, clubs and trips, please visit pdx.edu/recreation/student-rec-center.