George Fox University professor Steve Delamarter to discuss Ethiopian magic scrolls at PSU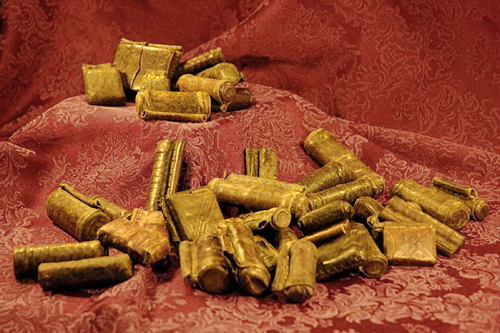 Magic is conventionally defined as something supernatural, mysterious and unbelievable. But professor Steve Delamarter of George Fox University argues that magic is all around us.
Tomorrow evening, Delamarter will explain the worldview and practices surrounding the popular use of amulet "magic" scrolls in Ethiopian culture in his lecture "Invoking the Secret Names of God: How Ethiopian Magic Scrolls Work for Protection and Healing."
The event is a part of the Middle East Studies Center Lecture Series and will take place in Millar Library.
Delamarter's lecture will include a summary of his work with Ethiopian manuscripts and amulets and an explanation of the beliefs surrounding magic scrolls.
"The belief in the power of Ethiopian magic scrolls is based in a set of ideas and stories with which most Christians in the West would be quite unfamiliar," Delamarter said. "Some of these are based on stories from the Bible; others are based on extra-biblical stories which circulate in Ethiopia.
"All of them center ultimately on a belief in a power resident in secret names of God," Delamarter continued. "We will explain the beliefs they have and the practices they employ to create and use these magic scrolls."
These god-emulating scrolls, which were used for many centuries in medieval Europe, Arabia and Ethiopia, are often believed to posses healing and protective powers.
"[The users] are grounded in worldviews that have their own internal logic but which are quite foreign to the modern world," Delamarter said. "All of them seek to find protection from harm, whether in the form of spiritual forces or natural calamity."
Delamarter joined the George Fox faculty in 1993. As an Old Testament scholar and a theological educator since 1979, he has facilitated learning in several Christian colleges and seminaries throughout the area and has digitized and catalogued more than 600 Ethiopic manuscripts that have come to North America.
Delamarter's interest in these magic scrolls flourished recently after a rather enlightening trip.
"I went to Ethiopia in 2004 in search of some information to help me sort out a particular puzzle about scribal practices in the Dead Sea Scrolls," he said. "I wanted to study the sociology and roles of living in scribal communities. They still exist in Ethiopia, so I went there, traveled around the country and interviewed scribes."
An avid amateur musician and astronomer, Delamarter also holds the position as director of the Ethiopic Manuscript Imaging Project.
"EMIP is a project to locate, digitize and catalog Ethiopian manuscripts and return images of them to Ethiopians—first to the Pope and authorities of the Ethiopian Orthodox Church and, second, to the scholars at Addis Ababa University at the Institute of Ethiopian Studies," Delamarter explained.
"Invoking the Secret Names of God" is co-sponsored by the MESC, the Portland State library and the Portland Center for Public Humanities.
Using the Gordon Hunter fund, PSU has recently acquired various Middle Eastern artifacts, including an Ethiopian magic scroll, two Quran pages from the 10th and 14th centuries, an Armenian prayer roll and an excerpt from a Coptic manuscript. These are presented in an exhibit titled The Gift of the World, on view in Millar through Wednesday, June 20.
"Delamarter's important research places him among the world's leading experts on Ethiopian magic scrolls, and his talk will provide a deeper understanding of [PSU's] collections," said Tam Rankin, program manager for the MESC.
Middle East Studies Center Lecture Series presents
"Invoking the Secret Names of God: How Ethiopian Magic Scrolls Work for Protection and Healing"
Wednesday
April 4
7 p.m.
Millar Library 170
Free and open to the public