Middle East Studies Center lecture series continues Feb. 9
Baher Butti—refugee advocate, community activist and founder of the Iraqi Society of Oregon—will speak Thursday, Feb. 9 at Portland State as part of a lecture series hosted by the Middle East Studies Center. Butti's presentation will address the role history and archetypes play in shaping the collective personality of Iraqis and how this personality comes to bear on the Iraqi refugee experience.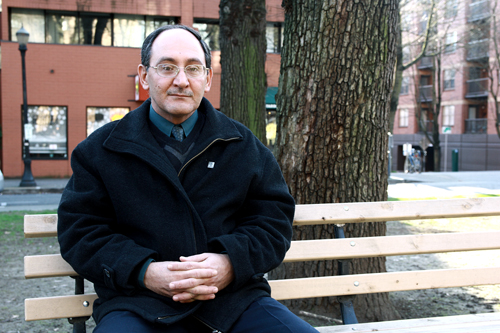 Yasmeen Hanoosh, an assistant professor of Arabic at PSU, will moderate Thursday night's event. Hanoosh hopes Butti's lecture will increase community awareness of an often over-looked population.
"There are somewhere between 1,500 and 2,000 Iraqi refugees living in the Portland area," Hanoosh said. The Iraqi refugee's exposure to mainstream culture, she added, is limited by their placement in low-income housing, the language barrier and poor access to jobs.
Prior to emigrating from Iraq, Butti was deeply involved in community activism; a practice that garnered him unwanted attention as well as death threats from Iraqi militias. A practicing psychiatrist with a doctorate from Baghdad University, Butti first came to the states by invitation from David Kinzie at OHSU to deliver a presentation on the psychological consequences of war. Butti settled in Portland in 2007, and is a year away from obtaining citizenship.
In 2008, Butti founded the Iraqi Society of Oregon to help build relationships between Iraqis living in Oregon and their communities here. IQSOR produces programs and hosts events designed to celebrate Iraqi culture and values while introducing its members to wider American culture. IQSOR's work aims to facilitate interaction between refugees and local communities in order to ease integration, dispel fear and mistrust and create opportunities for socio-economic improvement. Butti's experiences as a refugee, his activism in Iraq and his background in the mental health field prepared him to be an advocate for refugees and a community organizer in the states.
Not unlike other refugee groups in America, Iraqis are isolated "in a shell of protection," as Butti described it, from the surrounding culture by the language barrier. Butti is convinced the physical and psychological trauma brought by poverty and violence "strengthens the wall of that shell," and impedes refugees' ability to advocate for themselves.
What surprises people in Portland and in other American cities about Iraqi refugees, Butti added, is the "high level of education and dignity that conflicts with the stereotype of refugees."
Butti identifies closely with the refugees he works with in Oregon. "I feel that working in this field," Butti said, "is an attempt to compensate for my loss that I have to suffer because of being forced to leave Iraq." Butti's work with IQSOR is a continuation of a mission important to him since his early days of activism in Iraq.
Lisa Kelly is executive director of Better Life-U.S.A., a nonprofit which provides welcoming and support services for African and Middle Eastern refugees and immigrants in Oregon. Kelly recommended Butti for the Middle East Studies lecture series to MESC Outreach Coordinator Elisheva Cohen. "Butti's experience, insight and care for the Iraqi community," Kelly said, "will help inform Portlanders about the particular challenges of transition for those coming here from Iraq."
Kelly met Butti over a year ago at a meeting of collected groups from across Portland that work with Iraqi refugees. "To say that Baher has been a resource for me in my work," Kelly said, "would be trite. Working with Baher has helped teach us at Better Life how to partner with another culture." Butti's own experiences relocating to America, along with his background in psychiatry, Kelly believes, gives him unique perspective and ability for designing programs that best address the needs of the Iraqi refugee population. 
Thursday's event is co-sponsored by Better Life-U.S.A. and the Iraqi Society of Oregon. It begins at 7 p.m. in Smith Memorial Student Union room 236, and is free and open to the public.