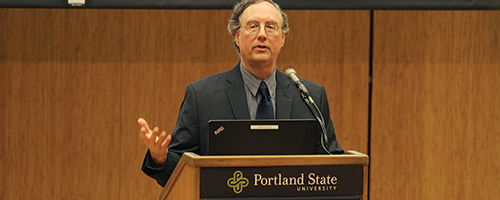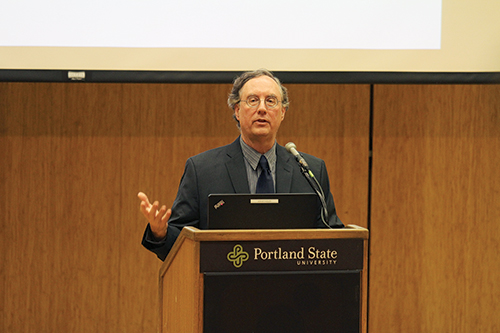 On Thursday, more than 100 people came to hear highly influential scholar Dr. Juan Cole discuss "Minorities and the Arab Revolutions." Cole has studied the Middle East through the lens of a social historian for decades and is nationally recognized as an authority on the region.
"Because the revolutions in January and February 2011 challenged long-standing institutions, they inevitably had huge impacts on minorities," Cole said, introducing the theme of the lecture.
He proceeded with an illuminating discussion on the situation of the Coptic Christian minority in Egypt and finished with a brief examination of the situation in Syria.
Cole is a Richard P. Mitchell collegiate professor of history at the University of Michigan and has been a regular guest on PBS' NewsHour. He has been featured on ABC World News, Nightline, Today, Charlie Rose, Anderson Cooper 360, Democracy Now! and The Colbert Report. He has given numerous radio and press interviews and continues to reach a wide national audience through his writing and media work.
The lecture was the keynote address and start of the Middle East Studies Center's private two-day workshop, which called together a group of 15 scholars from the Middle East, Europe and the U.S. to examine the issue of minorities and the Arab revolutions. This year's workshop was conceived by Dr. Laura Robson of the history department and Dr. Yasmeen Hanoosh of the world languages and literatures department.
"The idea for this workshop is to bring scholars from all over the world to explore this topic and see how our research intersects," Robson said.
A goal for the conference is to share the research with a larger audience.
"We are hoping the conference proceedings will be published as a special issue of a journal," Robson said.
"Part of the objective is to focus on the question of what we mean by minorities," Hanoosh said. "Are they numerically at a disadvantage? Are they different linguistically, politically, religiously? What do we actually mean by minorities and how does that juxtapose them with the majorities? Every panel at the workshop will be tackling the question differently.
"With this workshop, I would like to see a more comparative articulation of the issue," she added.
"Because minority issues are so complex and so numerous, we end up focusing on individual minorities sometimes. It will be nice to bring these scholars together to see where commonalities in research emerge," Hanoosh said.
The Middle East Studies Center fulfills its role as a national resource center by promoting an understanding of the peoples, cultures, languages and religions of the region to students, scholars and the general community.
"This is the highest-profile event for the Middle East Studies Center this year," Robson said. "PSU has a long history of serving as a center for international scholarship."