Sociology professors will study minority retention rates in apprenticeship programs
On Oct. 4, Maura Kelly and Lindsey Wilkinson of the PSU department of sociology, along with consultant Leslie Hammer of the PSU department of psychology, were chosen by the Bureau of Labor and Industries and the Oregon Department of Transportation as the recipients of a $76,025 research contract entitled, "Evaluating why women and people of color have lower retention rates in apprenticeships."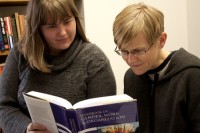 This contract is part of the highway construction workforce development partnership program. The program is dedicated to increasing diversity in the highway construction workforce, and ODOT is the financial backer while BOLI supplies its expertise in workforce development.
"Right now [the highway construction workforce] is not a particularly diverse workforce," said Robert Estabrook, communications director at BOLI. "We're hoping that through these contracts we'll be able to improve those numbers and get that workforce to be more representative of the population."
The research contract will analyze the causes behind such low representations of women and blacks in apprenticeships for the craft workforce, specifically highway construction.
A 2011 report published in the Labor Studies Journal, based on data compiled between 1991 and 2002, found that white women apprentices were less likely to graduate from apprenticeship programs than white men and that minority men were less likely to graduate from programs in higher skill trades.
"It is important to address women and minority underrepresentation in the heavy highway trades for several reasons," Wilkinson said. "First, it is an issue of fairness, equity and legal compliance: An inability to access and complete apprenticeship programs leads to fewer economic opportunities for individuals and is an issue of civil rights.
"We hope that information obtained from this project will aid ODOT in its ability to increase diversity in the highway construction workforce," Wilkinson said. "The proposed needs assessment of women and minorities in heavy highway trades apprenticeship programs will benefit a variety of people, organizations and groups, including unions, contractors, project owners, educators and the community, particularly state and local governments in Oregon."
This research contract could additionally aid contractors in meeting the ODOT diversity requirements for federal and state-funded road construction projects, as well as help contractors recognize certain obstacles in apprenticeship programs that would improve consistency and reliability in the work force.
"We ended up selecting [Kelly, Wilkinson and Hammer] as being the best fit for the work we needed to do," Estabrook said. "We've had some good experiences with working with folks over at PSU in the past, so I think this is a good fit all around."