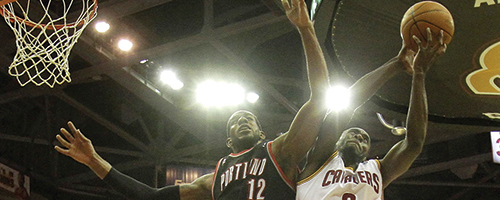 Blazers look for fresh start in 2012–13
New team, new dream.
That cautiously optimistic tagline is the official slogan of the Portland Trail Blazers this season, and it's a perfect way to describe the mood of both the organization and its fans at the start of a new campaign. The Blazers are looking to find their footing after the past few years of consistent disaster, and the organization is holding out hope that fans will buy into the latest rebuilding effort. But will they?
The team welcomes plenty of new additions to the roster in 2012–13, and the starters will be looking for help from a bench full of unproven players. Portland will be handing the keys to the offense over to a rookie point guard from the Big Sky (Weber State University product Damian Lillard), and Terry Stotts will also be entering his first year on the job as head coach. Sure, there's always the chance that the Blazers will make a run at just the right time and sneak into the playoffs with the eighth seed, but it's just as likely that they'll finish the season below .500.
Despite all of that, however, this group offers something that the Blazers distinctly lacked last season: hope. Hope that Lillard will be able to learn on the job and take control as the team's primary play-caller. Hope that
LaMarcus Aldridge will become the franchise player he is now expected to be and carry the team on his shoulders to battle for a playoff spot in a loaded Western Conference. Hope that Stotts will find the right formula for a lineup not yet accustomed to playing together.
It's a lot to ask. No one knows for sure how well this group will play as a unit, and the Northwest Division, which includes NBA Finals runner-up Oklahoma City Thunder and a hungry Denver Nuggets squad, will be tough to deal with over a long season. With all that has gone wrong for the Blazers in recent memory, even the most faithful followers are understandably on edge. You certainly couldn't blame them for expecting the worst, and it will be tempting to lose confidence in the team at the first sign of struggle.
The important thing to remember is that even though Portland doesn't have the obvious talent that they've had in the past, they don't have the baggage, either. Yes, this is a completely different team. But there's no reason they can't be a better one. They'll just need a little time.
My advice to Blazers fans this year: Buy into the hype. The season will be a lot more fun if you do.