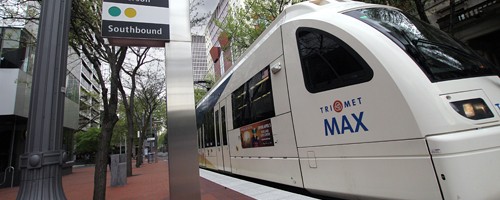 What a farewell to the Free Rail Zone would mean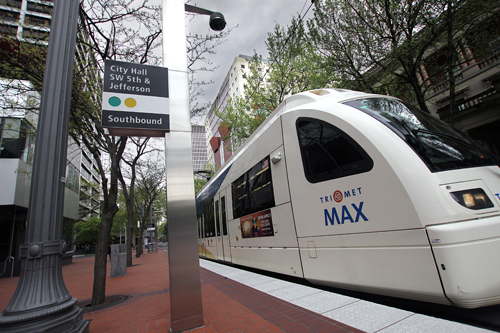 With TriMet's approaching fiscal year well within sight, public transit users are forced to prepare themselves for the drastic systemic changes included within the agency's budget proposal to close a $12 million gap.
Included in TriMet's budget proposal is the elimination of the Free Rail Zone, one of Portland's much-lauded transit services. Along with the other proposed changes to fares and services, Portland would wave goodbye to free rides on the MAX trains downtown and in the Lloyd District in September. With this change alone, the agency hopes to garner $2.7 million per year in extra revenue.
The revenue gained from eliminating the Free Rail Zone is the second largest figure in TriMet's proposal, but it is high on the list of services that would most affect the riding public. At Portland State alone, more than 40 percent of students use TriMet to get to and from school. Undoubtedly, some of these students, like art practices senior Kyle Mader, use the Free Rail Zone specifically.
"Every day, I drive to Lloyd Center and park my car in the free parking lot. Then, I get on the train to go to school. If I have to pay $5 more per day, $25 more per week, on top of all of my other expenses as a student, I don't know what I'll do," Mader said as he boarded an Eastbound Green Line train at the PSU stop. "I know plenty of people who do the same," he added.
TriMet began operating what was known as "Fareless Square" 37 years ago. Intended to reduce emissions and traffic in the downtown area, Fareless Square initially allowed the public to ride buses for free in an area similar to the one currently covered by the Free Rail Zone; downtown, Old Town, the convention center and the Lloyd District.
In 2010, TriMet's board voted to end free bus rides in the square. At the time, The Oregonian cited increased crime and annoyances on buses and trains and the difficulty of collecting fares for those riders who would board in the square and continue traveling beyond its boundaries as possible reasons behind the vote. In September, riders will likely see the end of a program of generosity and convenience, the end of a staple of Portland transit.
"It's time to change, and it's worth $2.7 million," TriMet Chief Media Relations Officer Mary Fetsch told The Associated Press.
In Portland, a city widely recognized as being forward thinking and "green" in its developments, the elimination of a system that undoubtedly cuts emissions downtown may seem counter-intuitive.
When asked whether or not traffic and emissions continue to be an issue of concern for TriMet, Fetsch pointed to compliance with federal laws, what initially inspired the program, as no longer being a problem. "Back in the 1970s, we were frequently in violation of Federal Clean Air standards. Since then we have significantly expanded the transit system and, along with other changes, and reduced emissions, it's no longer an issue," Fetsch said.
Ian Clarkburn, a Portland resident and longtime employee at Lloyd Center, contemplated what the end of the Free Rail Zone would mean for him. "I live just on the other side of the Burnside Bridge, but the MAX provides a really convenient way for me to get from work to downtown to meet friends for coffee or a beer, or anything," Clarkburn said. "It doesn't seem like very much, but $2.50 really is a lot over time to get from Lloyd Center to downtown; I'd probably have to find another option."
Echoing a common sentiment among Fareless Square riders, Clarkburn lamented the end of a very convenient system. "I think a lot of people rely on that convenience to get from place to place, even if it's a relatively short distance," he said.
Other residents in areas outside the Free Rail Zone seemed to take little to no issue with the zone's elimination. "I have to pay anyhow," said Gerald Marken, a frequent rider of the Green, Blue and Red MAX lines. "So what do I care if it will cost money to get from school to Nordstrom?" Marken said. "Get a bike."
Despite the impact that the elimination of the Free Rail Zone would have, Fetsch and TriMet maintain that there wasn't much public outcry at this decision. "We did not receive a lot of complaints about the elimination of the Free Rail Zone," Fetsch said. "Our finance staff make forecasts that take into account ridership changes based on service changes or fare increases."
As for what the future will look like, increased patrolling and ticket checking seem to be on the horizon. "We will deploy staff throughout the system, including the area that was formerly the Free Rail Zone. We are looking to add more fare enforcers in the upcoming budget. We are still evaluating that," Fetsch said.
For some students who rely on the Free Rail Zone, the future may not bode so well. History junior Nolan Parker said that if he had to pay to ride the MAX from PSU to the Lloyd Center, opting out of buying a ticket might look more appealing. "I'll consider just hopping on and not paying, despite the risks. I can't afford it," Parker said.
According to TriMet's website, fare enforcers will no longer issue warnings. Fare citations have a fine of $175 to $250.