Newly formed bouldering club hopes to build competitive climbing community at Portland State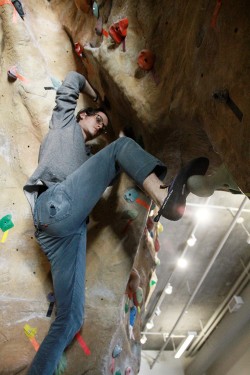 The Portland State bouldering club was formed in fall 2011 with the intention of building a solid climbing community and participating in competitions against other colleges.
Since then more than 20 members have signed up with the club.
"We wanted to create a community at PSU so that people can meet other climbers and go and climb outside," said Benjamin Berry, a club member majoring in environmental engineering and Spanish. "We are also trying to use the bouldering club to try and start a competition team. A lot of schools are involved in Northwest Collegiate Climbing Circuit, and we are trying to get involved in that league."
The Northwest Collegiate Climbing Circuit—also called NC3—competitions are held at colleges like Washington, Oregon State, Idaho and Oregon. The club has not been involved in any competitions so far but is planning to participate in the NC3 bouldering competition at the University of Oregon in April—one of four competitions for which the club is scheduled this year.
Back at home, the club is also trying to get access to The Circuit Bouldering Gym, which has locations in Northeast and Southwest Portland.
"We are planning to purchase Circuit Bouldering passes and sell them to our members at a discounted rate," club founder and environmental science major Amy Goodwin said. "We are trying to get those passes to have a different practice space; the space at the ASRC [Academic and Student Rec Center] is limited."
Club members can check out climbing shoes and chalk bags from the equipment checkout desk at the Red Center. No minimum level of climbing proficiency is required on the part of the members.
When founding the club, Goodwin said he hoped beginners would join. Getting women involved in climbing is another part of the club's mission.
"We have beginner and advanced climbers," Eric Jensen said. "You learn a lot from watching other climbers climb. Chances are that if you are not strong yet, if you show up for practice, you are going to get stronger and your technique is going to get better."
For safety purposes, all members need to see a video about the rules and regulations of climbing at the Rec Center and take a short quiz. The video teaches how to spot correctly and use a crash pad. In addition, all club leaders and Rec Center employees are First Aid, CPR and AED certified.
The club practices every Friday from 1 to 2:30 p.m. at the Climbing Center, which is on the third floor of the Rec Center. The club will be active for most of the year, with the off-season taking place over the summer.
"Bouldering is a really fun way to keep in shape," Berry said. "Not only is it physically demanding but you get a mental workout too. Some of the routes can be pretty daring."
This year, students can sign up for membership without a fee; however, starting next year students will be charged $10 per term. Students need to fill out a liability waiver and code of conduct form. More information can be obtained by emailing [email protected]