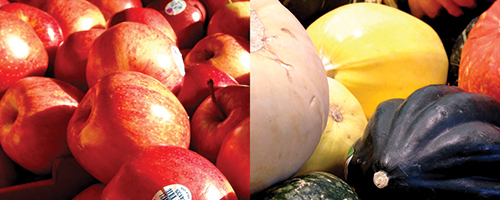 Get ready for rain with warm comfort food
While our last few sunny days give way to rain, it's time to start packing up the grill and saying hello to fall recipes. Fall—my favorite cooking season of the year—brings warm and luscious dishes spiced ever-so-nicely with rich flavors. Take advantage of these months and get to know what's seasonal in Oregon.
Piled high and rolling out of every grocer's door, pumpkins and squashes are the ripe and hearty cornerstone of fall. Whether you're cooking pie, bread, casserole, stir fry, risotto, soup or just roasting them whole, the meaty flesh of winter squash is filling, and bursting with vibrant flavor. With so many colorful varieties available you really can't go wrong, as each type has its own unique taste and texture.
When selecting a squash, keep a few tips in mind to ensure you'll get a ripe and delicious one every time. A lush color is your first indicator: aside from lighter-skinned types like butternut or spaghetti squash, the outside should be bright and eye-catching. A dull color means dull, un-ripe innards. Next, check for weight and texture. The skin should be very firm and not flake off when scratched with a fingernail; the squash should feel very heavy for its size.
When tapped or slapped, ripe squash makes a deep, hollow sound. Lastly, look for a matte finish—overly shiny squash means it wasn't given enough time on the vine or it's been waxed to keep it preserved past its prime. If you're having difficulties peeling off the tough protective skin, pierce the squash with a fork all over and microwave for two to eight minutes, depending on the size. When it is cool enough to handle, the squash should be much easier to cut and skin with a knife.
Two more stars of the fall season are broccoli and cauliflower. Though available year round, these cruciferous favorites are prime Oregon produce in the fall and winter. For finicky eaters scarred by reheated broccoli florets from the frozen dinners of their childhoods, try a new application of this vegetable. If left to steam a little longer than usual, broccoli or cauliflower combined with butter, salt and a splash of cream can be whipped and blended to a consistency much like creamy mashed potatoes. Serve with your favorite gravy and you'll have a new go-to side dish.
Local apples and pears are also perfectly ripe in autumn. Grab a bushel from the Saturday farmers market at PSU on Saturdays and use them to fill your house with a delectable fall fragrance. Cooking up some hot cider is a great use for them, particularly during these colder months. Buy a gallon of generic apple juice and heat it on medium-low in a large pot. Add in chopped-up chunks of pears and apples, a slice or two of orange, and some brown sugar, ground cinnamon, grated ginger and a sprinkle of nutmeg. Let these ingredients stew together for an hour (or all day) and then enjoy an enchanting cup of warm, fruity goodness.
If you practice buying produce in season, supporting your local grower and shopping at a farmers market, you'll get to experience every fruit and vegetable's flavor at its very best. Every dollar you spend is a vote for local and organic goods, which helps support Oregon business and allows our farmers to keep cultivating fresh food.
This simple pumpkin cake recipe takes all of the spirit of fall food and condenses it into one awesome dessert. This dish is easy to prepare and tastes wonderful regardless of whether it's served warm or chilled. Make a batch for your next house party and rest assured it will be scarfed down by all of your scarf-clad friends.
Cake
1
can pumpkin puree (15 oz)
4
eggs
1 and 2/3
cups sugar
1
cup vegetable oil
2
cups flour
1
tsp salt
1
tsp baking soda
2
tsp baking powder
2
tsp ground cinnamon
1/2
tsp ground nutmeg
Icing
1 package cream cheese (8 oz)
1 stick unsalted butter (1/2 cup)
2 cups powdered sugar
1 tsp vanilla extract
Pinch of ground cinnamon
Instructions
Preheat oven to 350 degrees. Combine pumpkin, eggs, sugar and vegetable oil in a medium bowl and whip quickly until fluffy. In a separate bowl, mix flour, salt, baking soda, baking powder, cinnamon and nutmeg together. Add dry ingredients to pumpkin bowl and stir until ingredients are well incorporated and the mixture is smooth. Pour batter into a greased 10- by 13-inch pan and bake for 30 minutes. Check doneness by inserting a toothpick in the center and pulling it out clean. Let cool before frosting.
For icing, combine softened cream cheese with soft butter and mix until smooth. Add sugar and mix at a medium-low speed with an electric mixer, or quickly by hand. Add in vanilla and cinnamon and mix again. Cut cooled pumpkin cake into bars and spread with frosting. Enjoy immediately or chill in fridge for later.