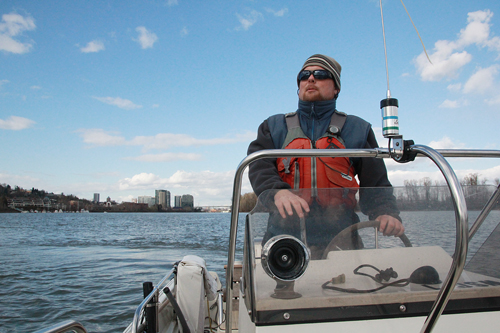 Students take part in recreational, competitive sailing in PSU's sailing club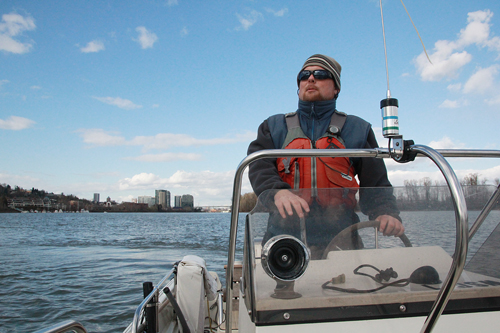 The Portland State sailing club is an Academic and Student Rec Center club that gives PSU students the opportunity to sail. Founded in 1987 by Toni Norris, the club is now headed by captain and geography junior Leila Whitney and commodore and environmental studies senior Mitch McLean.
"Being on a small sailboat is amazing," Whitney said. "You have so much control, and you work together with the boat and your crew to sail as quickly as possible. The wind and water splashing up keep you on your toes, and the occasional glisten of the sun makes it even more magical."
Whitney has sailed on bigger boats before, and she joined the sailing club when she moved to Portland so she could keep sailing. McLean grew up on Vancouver Island in British Colombia and has been been sailing since he was young.
"Sailing for me is a huge stress relief. It enables me the chance to clear my mind of the weekly list of to do's and focus solely on something I truly love doing," McLean said. "I've found very few experiences that offer the same thrill and excitement of flying across the water, powered not by a noisy motor, but by the wind."
Currently, the club has 15–20 members. To become a member, prospective students can just show up at practice wearing warm clothes and shoes they don't mind getting wet. The club practices at the Willamette Sailing Club on Southwest Beaver Avenue, and the fee to join is $100 per term.
"We sail two-person boats, so on your first day you watch for a bit and listen to the coach. Then we put you in a boat with an experienced sailor and they show you how things work, where to sit and what to do," Whitney said. "Learning the initial steps is easy, and then you progress tremendously with every practice."
Although the club fees might appear to be steep, Whitney thinks the club offers great value for the money.
"This is a great price when you consider that you are getting lessons, boats to sail, and travel both spring and fall," Whitney said. "We do not require this up front. Come to a few practices, see if you like it, and then commit."
The club practices every Tuesday, Thursday and Friday from 3–6 p.m. The club owns eight, two-person Flying Junior boats, which are the official boats for college sailing. The club also owns two Lasers, which are single-person boats.
The club's head coach is Steve Williams, who has been with the team for four years. The club recently hired an assistant coach, Nick Stockton, to run their Friday practices.
The club's competitive team travels all around Washington and Oregon and makes occasional trips to Canada and California for competitions almost year round. The team competes against other schools in the Northwest Intercollegiate Sailing Association. The NISA has competitors from Oregon, British Columbia and Washington.
"Our winter season star-ted the first weekend of February when we travelled to Bellingham, Washington," Whitney said. "Since then, we have traveled to Seattle twice, the Orcas Islands [Wash.] and Victoria, Canada."
McLean recounted an exciting incident during one such race.
"Last year, while on the team we were racing on Orcas Island in the San Juans. My crew mate John and I were mere feet from the finish line and we both made mistakes in our tack and ended up flipping the boat," McLean said. "Mind you, this was in February in the ocean while it was snowing. John and I were able to get the boat flipped back over and finish the race quickly enough that we still won. My heart was racing, the adrenalin rush and sense of amazement at what we had just accomplished is a feeling I will carry with me for a long time."
For the participant's safety during practice, all members are required to wear life jackets while in the boat. Wetsuits are optional except in places like Canada and Bellingham in February to prevent hypothermia.
"Sailing is a great way to experience Portland in a new way. Being on the river is an amazing escape from the bustle of city life," Whitney said. "Dress warm and come sail."