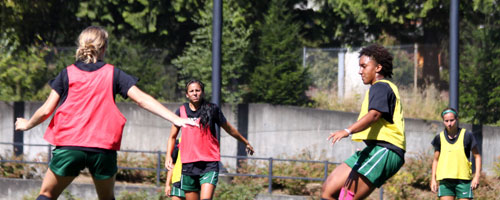 Team holds open tryouts two weeks before season begins
The Portland State women's soccer team held open tryouts on Saturday, hoping to find more talent to add to their roster before the fall season.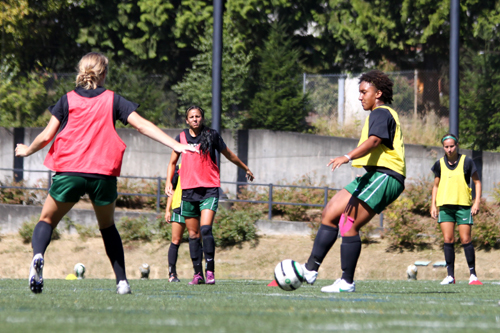 The Vikings begin their season with two exhibition matches Aug. 11 and 14. The regular season starts Aug. 17 against St. Mary's at Hillsboro Stadium. With the season less than two weeks away, head coach Laura Schott is trying to prepare her squad with the open tryout and practices.
Schott didn't know what to expect from the tryout in terms of numbers. "We opened it up thinking that we might have nobody show up," Schott said.
Two women showed and participated in the Vikings practice. They played for an hour and a half in the morning and had a more in-depth practice in the evening. "We put them into our practice and let them train with us," Schott said.
Schott is still in the process of evaluating their potential and determining what is best for her team.

"We like to look at all the possibilities," Schott said. "There are talented soccer players at our university that want to come out and see what it takes to play Division I athletics. Some of them want to test their skills, some are a little overwhelmed and some come out and say, 'great.' Then they have to evaluate the time commitment. It's a two-sided process. It's not just us evaluating them; they get to evaluate us."
The women's soccer team has held open tryouts in the past with good results. The last open tryout, held in 2008, led to fifth-year senior Amanda Howie joining the team. Howie missed all of last season because of injury, but she received a medical hardship waiver to play this season. Howie has made 18 appearances on the soccer field, starting in six games as a defensive midfielder.
"Amanda Howie tried out in 2008," Schott said. "She's a big impact player for us. She has a lot of younger players look up to her, and she has become a main part of our starting lineup."
The women's soccer season officially starts Aug. 17. The Big Sky Conference season begins a month later, pitting PSU against Northern Colorado Sept. 17.