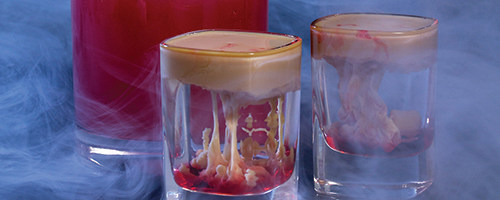 The perfect libations for a frightful night
Halloween presents the opportunity to relive childhood with the joys of dressing up, scaring ourselves senseless with horror flicks and munching on mountains of candy. This bloody punch recipe is a goofy treat that will please all your friendly ghouls. Filled with fruity eyeballs, this drink is delightfully creepy. It tastes wonderful on its own but can easily be made devilish with the addition of two ounces of vodka per tall serving glass.
Our second spook-tacular recipe is for of-age monsters only and should be consumed responsibly. This deliciously sweet shot is a tasty sensation once you get past its horrific appearance. Once grenadine is dropped into the mix, watch as your glass slowly transforms into a boozy hemorrhage specimen.
Ingredients
Spooky juice
2 quarts cran-raspberry juice
2 cups pulp-free orange juice
2 cups club soda
1 cup peach nectar
1/3 cup red crystal-sugar sprinkles (garnish)
Icy eyeball
2 cans (15 oz) lychees in light syrup, drained
24 fresh blueberries (can substitute
frozen, thawed)
Hemorrhage shot
1 oz peach schnapps
1–2 tbsp Baileys original
1 tsp grenadine
Instructions: Spooky juice
Begin by draining lychees and placing them in a bowl. Carefully pop one blueberry into each side of the open lychee cavity, creating a fruity eyeball. Place stuffed lychees on a tinfoil-wrapped baking pan or ceramic plate and place in freezer for one hour. Combine cran-raspberry juice, orange juice, club soda and peach nectar in a large punch bowl. Once frozen, plop in lychee eyeballs. Pour crystal sprinkles on a small plate, wet the rim of each tall glass and garnish with the red sugar. Make sure each glass gets at least one eyeball.
Instructions: Hemorrhage shot
Pour peach schnapps into a short tumbler glass and then carefully spoon Baileys on top so that it floats on the surface. Quickly drop one teaspoon of grenadine in so that it breaks through the Baileys into the schnapps. The end result should be a fleshy-looking hemorrhage glob in the glass.