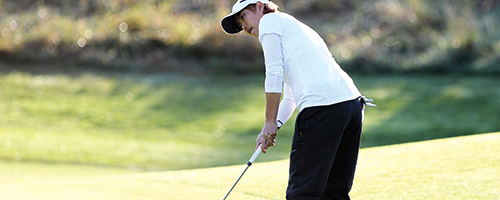 Trio of golfers offers hope for title push in spring
The women of Portland State's golf team play their final rounds of the fall schedule this week at the University of Washington's Edean Ihlanfeldt Invitational, which finishes Wednesday at Sahalee Country Club in Sammamish, Wash.
As the team nears a four-month break before resuming play in February, it does so with a roster that is starting to look as deep as the back-to-back Big Sky champion teams of 2010 and 2011. Senior Britney Yada, the 2011 Big Sky Conference individual champion, leads a team hoping to win its fourth conference title in six seasons under head coach Kathleen Takaishi.
Along with Yada, two new faces have emerged that give the Vikings a legitimate shot at a Big Sky title. Who are the three golfers who give PSU a chance at another championship when they pull their clubs back out and hit the links next spring?
Britney Yada: the veteran
Season scoring average: 77.11 per round
Yada, the captain of the golf team, has been the anchor for PSU since 2009. The senior from Hawaii led PSU golf in scoring average from 2009–12 and holds school records for best single round (67 at the 2012 Big Sky Championship), best 54-hole tournament score (210 at the 2011 Big Sky Championship), season scoring average (75.51 in 2010–11) and career average (76.13). But after three tournaments in 2012, Yada ranks just third on the team in scoring average.
Yada's best finish this season came at the WSU Cougar Cup. There Yada shot 76-73-75 for a share of 16th place.
Despite the slow start, the good news is that she has always played better in spring than fall. Yada's career scoring average in fall tournaments is 77.73; in spring tournaments, she hits nearly three fewer strokes per round (74.81).
A Ram Choi: the transfer
Season scoring average: 74.44 per round
Before coming to Portland as a transfer student from Washington, Choi finished sixth at the BC Women's Amateur in July with a two-under 286. A month later, she qualified for the main field at the LPGA Canadian Open in her hometown of Surrey, British Columbia. The confidence of a successful summer has carried into her first rounds as a Viking, as Choi has made an immediate impact on the PSU golf team.
In her first round as a Viking, the redshirt sophomore tied Yada's single-round record with a 67 to take an early lead at the OSU Invitational in Corvallis. She eventually finished 12th in her first tournament for PSU.
Last week at the Rose City Invitational at Langdon Farms Golf Club, Choi became the first Viking to win an individual tournament since Yada's 2011 Big Sky Championship victory. She shot a two-over 218 for a five-stroke win over Northern Arizona's Savana Bezdicek to win Big Sky golfer of the week honors.
Kristin Henno: the freshman
Season scoring average: 75.50 round
Last fall Henno was a high school senior and captain of the four-time Los Padres League champion golf team at Santa Ynez High School in California. Before her senior year, Henno participated in the 2010 World Junior Golf Championships.
This fall Henno was one of two freshmen to join the team. After playing her first two tournaments at the college level, Henno has proven a strong recruit for the team. She is already proving herself one of the best golfers at PSU.
At the OSU Invitational she was the team's second-placed golfer, behind Choi. In Pullman, Henno shot the first even-par round of her collegiate career to move up into a tie for 10th in the final leaderboard, earning Big Sky golfer of the week honors. She, rather than Choi or Yada, has been playing well enough that she was projected to be the team's number-one starter at the Rose City Invitational, before illness forced her to scratch from the event.