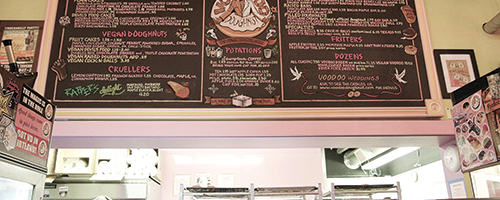 [portfolio_slideshow id=48083]
If you're looking to do something at night that captures Portland's unique culture, there are several options beyond dinner at a local restaurant or a good beer.
Shanghai Tunnels
Explore Portland's history by taking a nighttime tour of the Shanghai tunnels. During the 17th and 18th centuries, underground tunnels were constructed linking Old Town/Chinatown to the central downtown area. Bar and hotel basements would open into these tunnels, which eventually led to the waterfront, allowing shipments to be rapidly taken from the docks into storage.
It's not the tale of efficient trading, however, that's gained the attention of Portland tourists. The tunnels get their name from the practice of "shanghaiing," or the kidnapping of able-bodied men to be sold into slave labor aboard ships. This practice is rumored to have taken place in the tunnels for years.
During an hour-and-a-half tour, guests receive an oral history lesson and have the opportunity to explore the tunnels and some of the tricks used to kidnap men. Tours are by reservation and are $13 for adults and $8 for children.
503-622-4798
shanghaitunnels.info
OMSI
The Oregon Museum of Science and Industry represents Portland's love of nature and science. OMSI offers a learning and social event on the last Wednesday of every month, called OMSI After Dark. These events are 21+ and unite socializing, dining and science.
Ticket prices vary each month, but guests can expect to sample local beer, wine and food from various vendors and explore the monthly exhibit.
1945 SE Water Ave.
1-800-955-6674
omsi.edu/afterdark
The Crystal Ballroom
The Crystal Ballroom, opened in 1914, is among the oldest ballrooms in the U.S. It's boasted headliners such as Jimi Hendrix and the Grateful Dead.
With all-ages shows, there's no reason for any Portlander to miss this venue. The "floating" mechanical dance floor has been fully restored and is in working condition. The floor was originally one of only a couple in the Pacific Northwest. Now, however, the mechanical dance floor is one of only a few left in the U.S.
Incredibly decadent and detailed decor make up the interior of the ballroom, and with a large variety of shows ranging from local groups to national acts, there's always a reason to be dancing at the Crystal Ballroom.
1332 W Burnside St.
503-223-0047
mcmenamins.com/425-crystal-ballroom-home
Voodoo Doughnut
Where better to go to get a late snack after a night dancing at the Crystal Ballroom or touring the Shanghai tunnels than the original Voodoo Doughnut? Open 24 hours, Voodoo boasts a huge array of doughnuts, ranging from the common glazed doughnut to the specialty "cock-n-balls" doughnut.
Started by two young friends seeking to open a Portland-friendly business, Voodoo captures the "Keep Portland Weird" culture with its doughnuts and environment. The store's interior is painted in a variety of bright and neon colors, nearly all the employees sport hip beards or glasses and tattoos, and there's almost always a line out the door.
22 SW Third Ave.
503-241-4704
voodoodoughnut.com

Powell's City of Books
Last but certainly not least, if you're looking for a quiet and relaxing way to spend an evening getting to know Portland, look no further than Powell's Books. Open until 11 p.m. on weeknights, this monster-size bookstore takes up an entire city block, boasting 68,000 feet
packed with books.

1005 W Burnside St.
503-228-4651
powells.com