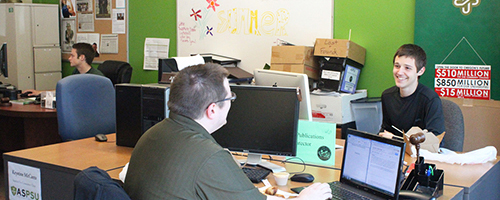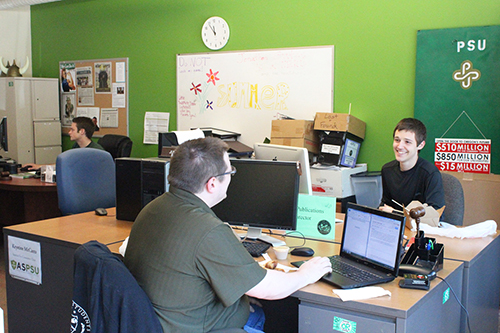 The Associated Students of Portland State University,the student government body of PSU, is composed of three main branches: the student senate, the judicial review board and the executive branch.
The student senate is in charge of confirming ASPSU appointments and budgetary and constitutional revisions, among other things. The judicial review board primarily serves to interpret enforcement of the ASPSU constitution in addition to ruling on appeals and suggesting amendments to the constitution. The executive branch is responsible for administrative duties and is in charge of ASPSU.
According to ASPSU President Harris Foster, the mission of the organization is "to improve the lives of our students on campus."
If a student wants to get involved in ASPSU, Foster says some initial steps include "taking an introductory political science course" such as "Civic Leadership Development," tabling, which is promoting ASPSU at events and providing information to the student body or "coming in to help with voter registration and survey campaigns…or interning."
A typical day for a member of the student senate might entail "working on a project decided on during committee, tabling, researching contracts and their effects on students or doing on-the-ground outreach," Foster said.
Take a look at a few brief profiles of several ASPSU members:
Eric Noll, legislative affairs director
Major: political science with a minor in civic leadership
Year: junior
Reason(s) for joining ASPSU: "I'm starting classes this fall at PSU after transferring from [Linn-Benton Community College], where I served in the ASLBCC student government as the legislative affairs director for two years. I joined ASPSU because I am very passionate about serving students and applied for ASPSU legislative affairs director because that is where I have the strongest skill set. Student government offers diverse and ever-changing challenges, and by taking those on I have a real opportunity to win concrete victories that improve the lives of students."
Most important goal while in office: "To build student power through leadership development, voter registration, policy change and legislative victories."
Advice for new students: "Well, I'm a new student myself, so the one piece of advice I can give to new students is to do something that matters—outside of your classes—while you are here at PSU."
Favorite song at the moment: "Radioactive" cover by Pentatonix and Lindsey Stirling
Steven Balogh, student life director
Major: economics
Year: senior
Reason(s) for joining ASPSU: "Student power!"
Most important goal while in office: "I am putting together a student government newsletter. We are aiming to roll out the first one on Sept. 3. It will go out to every student. We're not looking to make another Virtual Viking—we're going to keep it short and sweet. A few short bullet points of recent accomplishments, goals, events and news. The idea is to show everyone that we're here, we're doing stuff and we know what's up. It will be a resource for everyone to take a quick look and get a grasp of the student situation on campus and in Oregon."
Advice for new students: "Keep a 5-Hour Energy [drink] in your backpack. Only use it if you legit can't keep your eyes open."
Favorite song at the moment: "Radioactive" by Imagine Dragons
Harris Foster, president
Major: French with a minor in law and legal studies
Year: junior
Why he joined ASPSU: "Right out of high school, a campus tour guide made it clear that there was an open senate position. I got involved as an intern…On a college campus, student government members can actually have an effect and make real change [within] and [outside] of policy realms."
One goal while in office: "To make tangible change in the banking system on campus [working with Darren Matthews] and get the fifth ATM [as outlined in the HigherOne contract]."
Advice for new students: "Don't focus on just building your resume; follow your passion, get involved and the rest will fall into place."
Favorite song at the moment: "A Little Death" by The Neighbourhood
For more information, visit aspsu.pdx.edu