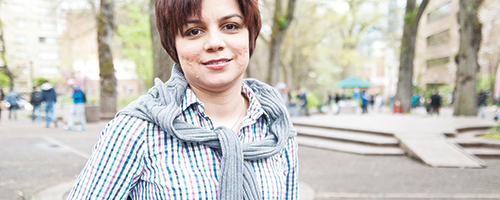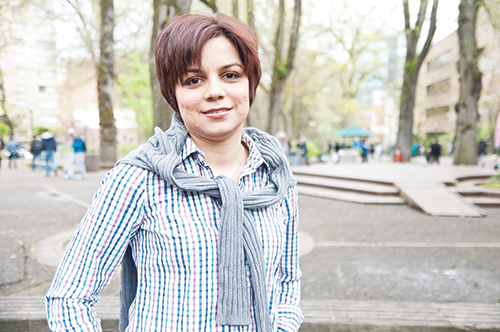 Portland State is known for being a school of nontraditional students—those that come from all walks of life to discover their place in Portland.
Samira Rezaei has done just that. An international student from Iran, Rezaei moved to the United States about three years ago.
With an undergraduate degree in electrical engineering earned from the Najafabad branch of the Islamic Azad University in 2007, Rezaei got a job in her field in Iran. One job she did was programming press machines to create tires for cars.
After realizing she wanted to move to the U.S., Rezaei first went to Los Angeles to study in a program to develop her language skills. But when it came to choosing PSU, Rezaei says it was largely a matter of chance.
"I just looked at a map and saw the name of the city Portland, and looked at the universities that were in the area, and I said 'OK, Portland State will fit with me,' so I applied."
Rezaei realized while applying for different fellowships at PSU that many required a degree from a U.S. school. "As an international student I decided to get a degree from PSU," Rezaei said. "My research and volunteering at an optical lab [at Oregon Health and Science University from 2010 to 2012] made me choose physics-biomedical for my second [bachelor's degree] last year."
Rezaei said that she didn't pay close attention to the exact classes she needed for the degree at first, so she's still finishing this second degree with undergraduate classes she missed. She's working to ultimately get a master's degree and eventually become a professor instead.
Rezaei said that experiencing undergraduate life as a student in the U.S. will help her eventual teaching and research.
Rezaei said that moving to the U.S. was very difficult for her at first. She experienced culture shock and said that it was hard to handle school and deal with transferring credits. Trusting her advisor was hard.
She said that in her first undergrad electrical and computer engineering class she was the only girl, and no one around her was from overseas. She felt like maybe she was in the wrong place, and everything scared her. 
"It took me three years to change my situation and to realize what was wrong with me," Rezaei said.
After choosing Portland, she went onto Facebook and searched "PSU students from Iran" to try to find people she could relate to. Someone responded to her, saying that they had a friend who was from Iran and was looking for a roommate, so Rezaei was able to find a place to live.
As she's getting more accustomed to living here and attending PSU, Rezaei is now a mentor in the Mathematics, Engineering, Science, Achievement program. MESA is a program that partners with PSU and holds after-school clubs in various underrepresented middle and high schools around the Portland area.
Rezaei is currently the mentor for Mt. Tabor Middle School and meets with a group of students each week to work on a prosthetic arm design that will compete against those of other schools later next month.
Outside of academics, Rezaei is a performer and treasurer for the Latina Dance Club at PSU. She enjoys taking part in many engineering groups and dance groups and plays multiple instruments that she brought from Iran.