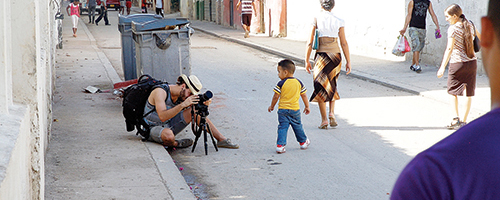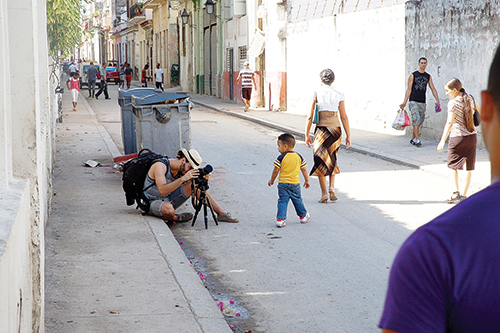 Clarke Leland, a 23-year-old Portland State film major, shoots buildings in Old Havana, Cuba, from the sidewalk. Leland is helping to produce a documentary about Cuban planning and sustainable development for a class. Photo courtesy of Derek Dauphin.
Clarke Leland was staring at his laptop monitor, trying to find a class for fall term that would fulfill that pesky University Studies credit that so many Portland State students treat as an afterthought.
The 23-year-old film major didn't realize it then, but that class would take him and a group of graduate students 2,719 miles from Portland, into a foreign country embargoed by the U.S. government, and give him an opportunity to make a documentary film about Cuban planning and sustainable development along the way.
Not bad for a class that's not even required for his major.
"I just thought this was a really great opportunity to try something," Leland explained. "To have the chance to go make a documentary in a place I might never get the chance to [go to] again."
What started as an open-ended series of travel-abroad classes quickly morphed into a fully-realized film and research hybrid project, tentatively titled The Greenest Places: Sustainable Historic Preservation in Old Havana and Portland. Leland was joined by students from the Master of Urban and Regional Planning program.
Not prone to settle for a short-form travelogue about a "forbidden" country, Leland and his crew decided to transform the film into a four-part, feature-length piece, to be shown in segments around Portland this spring.
By first investigating sustainable urban planning in Cuba and eventually turning their lens back to Portland, the group hopes to ask difficult questions about our own practices in urban planning as well as highlight the differences—and similarities—in these seemingly polarized environments.
The group landed up to $1,500 in funding from the Solutions Generator program run by PSU's Institute for Sustainable Solutions. The program seeks to award
financial support to student projects in sustainability in an attempt to encourage holistic learning and community involvement.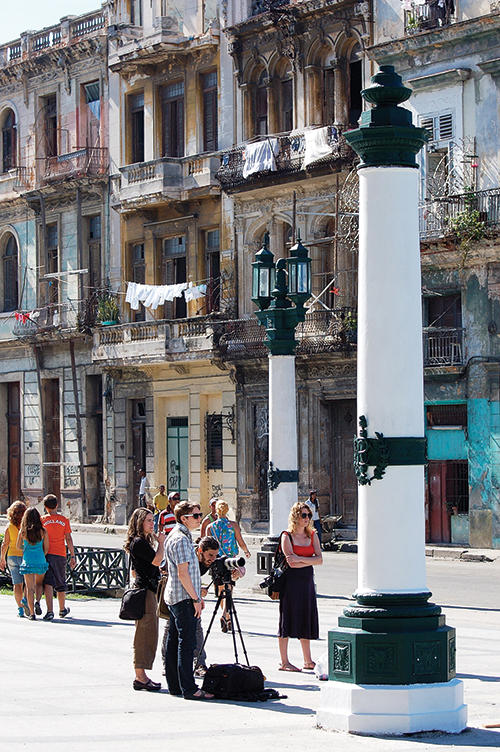 Film Crew Lina Meriard (left), Liz Paterson, Clarke Leland and Katie Hughes film at the Capitolo in Havana, Cuba. Courtesy of Derek Dauphin.
The team was assembled before leaving for Cuba and consisted of two undergraduate students (Leland and sociology major Veronica Bradford) and four urban planning graduate students: Derek Dauphin, Liz Paterson, Lina Menard and Katie Hughes.
"It's really a nice model for the university itself," Dauphin explained. "We can pool these educational threads together very nicely."
On Dec. 9, the group headed to Cuba, anxious to break ground on a real-world project that looked nothing like highlighting lines in a textbook or spending hours in front of a computer at the library.
Armed only with his Canon 7D, a few rented lenses and the new GoPro Hero 3, a popular sports action camera slowly finding its way into documentary use because of its small size and durability, Leland was able to capture a unique vision of Havana that would have been nearly impossible just 10 years ago.
Impossible…or, at least, more expensive. This, to Leland and his crew, provides a unique opportunity to tell a story that highlights change in a world that looks different day by day—change that seems ever more apt when the very nature of telling stories and performing research changes in sync with the subject of study itself.
According to Dauphin, Cuba's uniqueness rests heavily on the country's recent history. Dauphin points to the collapse of the Soviet Union, which crippled the Cuban economy because of their reliance on trade with the former Soviet Republic.
This, combined with the United States' trade embargo, essentially sent Cuba back 60 years, and the country was forced to take up sustainable building practices simply out of economic necessity. Cubans stopped importing, reused local goods and were forced to be innovative with the few resources they had. Multigenerational use for buildings became an imperative.
This model, while unique and not exactly intentional, makes Havana a worldwide leader in sustainability, according to Dauphin and his team.
Transportation in Havana is still a key problem in the city's development, and contributes to the push of residential development into the outskirts of Havana because of the lack of funds.
"Some people have to ride the train for an hour just to get into the city," Dauphin said. "It really is a work in progress."
The group spent two weeks in Cuba, gathering footage—800 gigabytes so far—and research that will keep them occupied for much of 2013. But now that they are back in the United States, the group's focus turns to Portland.
In the upcoming months, Leland and his team will meet with Chet Orloff, an Oregon historian, for a walking tour of Old Town and Chinatown, in an attempt to contextualize the recent urban development in the area.
After the film's completion, the group hopes to create a website to use in conjunction with the film's four segments in an attempt to create a
dialogue that lasts longer than a two-hour sitting in a movie theater.
Editor's note: Reporter Matthew Ellis will volunteer as a crew member in the upcoming Portland segment of this film.