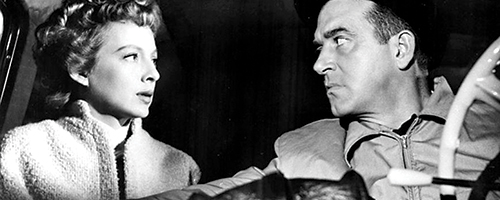 Northwest Film Center presents noir classics
"Tension and foreboding. Seediness, despair." These are the attributes of classic film noir, according to Morgen Ruff of the Northwest Film Center, and they will be projected in all their 35mm-glory this weekend at the center's celebration of noir, "Dangerous Desires: Noir Classics."
"Noir," a French term that translates literally to "black film," "was not a 'recognized' genre in the studio era but rather a concept used by later critics," said Mark Berrettini, a professor who teaches film noir at Portland State, in an email.
"Films placed under the noir rubric are almost always bleak, dark and pessimistic about the state of the world," said Ruff, an exhibition program assistant at the center who helped coordinate the event, via email.
The noirs from the 1940s and '50s—widely considered the heyday of the studio era noir—share this grim worldview and a similar cinematic feel, archetypes and plotlines.
Noirs typically have "criminal plots, downbeat narratives, highly stylized cinematography and recurring character types, such as the hard detective or the femme fatale," Berrettini said.
The film center's lineup of classic noirs gives viewers an opportunity to see historically neglected films that the Film Noir Foundation has restored and preserved in their original 35mm format.
Northwest Film Center and Noir Film Foundation present
Dangerous Desires: Noir Classics

Caught (1949)
Friday, Sep. 28, 7 p.m.
High Wall (1948)
Saturday, Sep. 29, 7 p.m.
99 River Street (1953)
Saturday, Sep. 29, 9:15 p.m.
Loophole (1954)
Sunday, Sep. 30, 5 p.m.
The Naked Alibi (1954)
Sunday, Sep. 30, 7 p.m.
Whitsell Auditorium
1219 SW Park Ave.
Students $8
"One of the goals of the Film Noir Foundation is to bring recognition to films that have, for various reasons, eluded recognition by cinema scholars. Some of the films in this series are top-of-the-line examples of the genre—other films in the series are out-and-out rarities," said Eddie Muller, an author, filmmaker and president of the Film Noir Foundation, in an email. "There really is no other way of seeing them than in a film series like this."
Although the film center has hosted film noir series in the past, it has partnered with the Film Noir Foundation to shine a light on these more obscure films.
"The idea behind this series in particular was to offer rare titles that, by and large, cannot be seen elsewhere," Ruff said. "It's a classics series, sure, but in essence it's a greatest-hits-that-you've-never-seen kind of thing."
The center sought out Muller for its noir series because of his tireless work promoting and preserving film noir at the Film Noir Foundation. Muller's dedication to noir is rooted in the genre's unlikely genesis.
"It's Hollywood's only organic artistic movement," Muller said. "There was no economic reason for the films to be made the way they were—it was purely the development and refinement of a suddenly shared artistic sensibility that led to what we now call 'noir.'"
Attendees of the event can expect an enthusiastic atmosphere populated by noir aficionados.
"There are a lot of die-hard noir fans in Portland, and they've come out in droves for this series," Ruff said. "Audiences have been very receptive to the films."
"Dangerous Desires: Noir Classics" concludes this weekend with screenings of noir classics Caught (1949), High Wall (1948), 99 River Street (1953), Loophole (1954) and The Naked Alibi (1954). "High Wall is a stellar example of 1940s noir, and 99 River Street might be the best example of a '50s-era film noir," Muller said.
High Wall (1948)
Curtis Bernhardt's rain-sodden whodunit stars Robert Taylor as Steve Kenet, a former fighter pilot and head trauma victim who is attempting to piece together a fractured, violent night that left his wife murdered and him the primary suspect.
The authorities send Kenet to a psychiatric hospital, where he becomes the ward of Dr. Ann Lorrison (Audrey Totter), who must determine his mental stability and fitness for trial. (The good doctor is, of course, all smoky eyes and blonde curls; let's just say that High Wall 2 would have featured a long line of questioning from an ethics board.)
Bernhardt employs some singular storytelling techniques to increase the suspense in what could have been a fairly ordinary story of a man falsely accused. When Kenet finally acquiesces to the doctors' sodium pentothal (aka truth serum) treatment, the solution prompts the first of two prominent flashbacks.
Dr. Lorrison mines Kenet's mind with "narco-synthesis," and the viewer finally glimpses bits and pieces of Helen Kenet's death—bits and pieces that send Steve Kenet on the run.
Though High Wall's denouement doesn't exactly surprise, the film compensates for the lack of narrative suspense with its layered storyline and dark, moody cinematography.
99 River Street (1953)
John Payne (Miracle on 34th Street) delivers a gutsy performance as Ernie Driscoll, an erstwhile boxing champion in an era when elite boxers were apparently doughy, middle-aged white men.
Three years after losing his final bout, Driscoll finds himself driving a Radio Cab and saving money to open a gas station with his wife, Pauline, who is having an affair with diamond thief and fedora enthusiast Victor Rawlins.
After Rawlins' diamond deal goes south (Rawlins' buyer balks when Pauline shows up, stating simply, "I never do business with women"), Pauline winds up dead in the back of Driscoll's cab—and Ernie has no alibi.
Linda James (Evelyn Keyes), a striking, down-on-her-luck actress who owes Ernie, accompanies Driscoll as our protagonists must both avoid Johnny Law and prove their innocence.
Despite the cliché-riddled setup, Karlson's film avoids a tired rehashing of the "wrong man" scenario in favor of a genuinely suspenseful payoff. By the time Driscoll, James and the affronted diamond crew confront Rawlins at a seaside café, any ending seems possible.
But the true pleasure of 99 River Street lies in Robert Smith's screenplay. The dialogue crackles with some thoroughly '50s word choices—words like "dame," "swell," and "phony" dot the diction. A sampling:
"Take it easy, kid. When you're clipped on the chin, that's exactly when you need to keep your head," Ernie tells Linda. "Otherwise you'll get your brains knocked out."
Ernie, upon discovering Pauline's infidelity: "So it ends up I'm married to a tramp. Would you like it?""I was a real louse tonight," Linda tells Ernie. "I was a heel."
Ernie's boss and friend, Stan Hogan: "When a dame loves a guy, she don't like to see him take it on the chin."
"I didn't come here to get a lecture, Pop," Ernie tells his former trainer. "I came here to get a fight."

And, finally, some sage romantic advice from our lovesick protagonist, Ernie Driscoll: "I might have known it: any time you get hooked up with a dame you're bound to get in trouble."