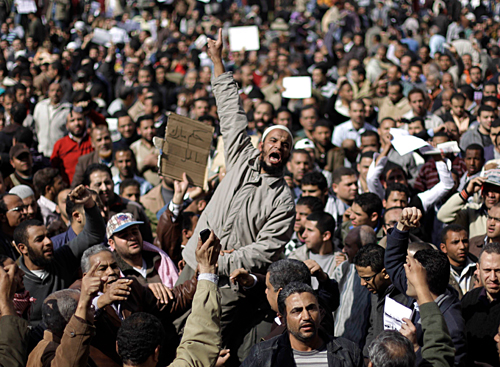 Egyptian PSU professor to give talk, provide insight into state of nation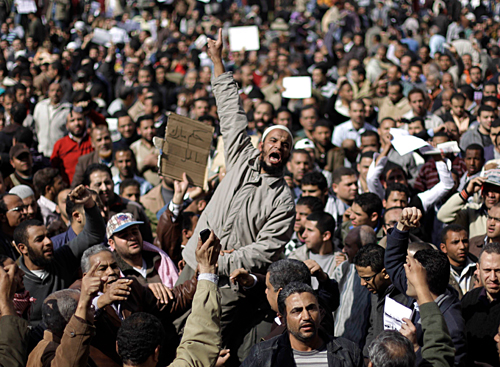 Any avid follower of geopolitical events has likely asked the question: What does the future hold for Egypt?
"No one knows, and this is what I will try to address, even though it may sound like I'm reading a crystal ball," said Nohad A. Toulan, Dean Emeritus of Portland State's College of Urban and Public Affairs.
Toulan will attempt to answer this controversial question and more in his Dec. 6 lecture, "Tahrir Square three hundred days later: did the revolution really succeed?" He will also provide an update on the political and economic conditions in post-Mubarak Egypt.
"Five weeks ago, when I agreed to speak, I was planning on addressing the misunderstandings regarding the toppling of the regime last February," Toulan said. "At that time, the regime was understood to be Mubarak while in reality he was only a front. The military has been the real regime since 1952, and they were not toppled."
Toulan added that, in light of current events, "I am not sure what the thrust of my speech is going to be. I guess I won't know until the morning of the lecture."
Toulan recently visited Egypt to witness the "Second Revolution" in Tahrir Square himself. As a native hailing from Cairo and Alexandria, he met no resistance.
"I was born there, I finished college there, and when I left in 1968 I was a very senior government official," Toulan said. "Only those who know me know my American affiliations and identity."
The talk will include first-hand accounts of the revolution, of the demands of the movement that overthrew Mubarak's government and of the changes that have been put into effect since the ousting.
"The response from the public has been really amazing so far," said Jenny Keene, office coordinator for the Toulan School of Urban Studies and Planning. "At first we thought the event would just draw a small group of PSU folks, but almost immediately, people from all over the city were contacting me about attending, wanting to know more. We actually had to move it to a larger venue to accommodate everyone."
Keene is one of many individuals highly interested in the lecture, and she hopes to draw the Portland State community to the event.
"It's an important topic, and rather than only having access to the popular media's take on the events in Egypt, people should have the opportunity to hear from someone who really knows the circumstances leading up to the revolution, who has personal and professional roots in Egypt and who has watched and experienced the activity in Tahrir Square firsthand," Keene said. "I feel like we in the PSU and Portland community are so lucky to have the opportunity, and I wanted to extend the opportunity to as many people as possible."
As the circumstances for the "Second Revolution" in Egypt are rather vague to many Americans, Dr. Toulan's lecture promises to identify and clarify the issues and predict future outcomes connected to them. In addition, the talk will include the social effects of the political upheaval.
"There is something so breathtaking about seeing civilians organize on such a massive scale to create social change," Keene said. "I studied mass communication when I was a student at PSU, and it has been fascinating to see the role that social networking and media has played in enabling Egyptian, Libyan and Iranian citizens to share ideas, expose injustices and rally together."
While the lecture will present solely the issues in Egypt, Keene believes the points can be connected to other nations; namely, the United States.
"I think that there are citizens in nations across the globe, including the U.S., who also feel oppressed by social and political imbalances in their government," Keene explained. "And it is amazing to witness and learn from such a critical revolution, unfolding in real time."
The lecture is being presented by the Toulan School of Urban Studies and Planning and the Portland Center for Public Humanities, as well as PSU's Center for Turkish Studies, International Studies Program and Middle East Studies Center.
For MESC Outreach Coordinator Elisheva Cohen, the decision to participate in the event was a no-brainer.
"When asked to sponsor a talk by Dr. Toulan, a distinguished member of the PSU community and expert on this topic, we did not hesitate," Cohen said.
The MESC is an organization on campus that promotes the understanding of Middle Eastern culture, people, languages and religions. Dr. Toulan's lecture is just one event of dozens that they sponsor and support.
"The MESC is delighted to be co-sponsoring a talk with Dr. Toulan about last year's Egyptian revolution," Cohen said. "We are very excited to have Dr. Toulan speak about the current state of Egypt one year later and talk about the successes of the Egyptian revolution. So far we have had a good response to the event—people seem excited!"
"Tahrir Square three hundred days later: Did the revolution really succeed?"
Smith Memorial Student Union, room 238
Tuesday, Dec. 6, 1 p.m.
Free and open to the public.