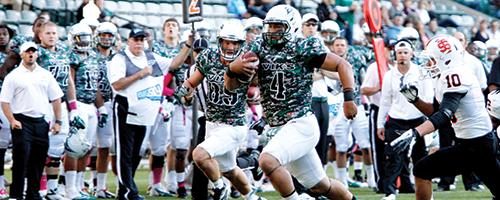 Football team gears up for heart of conference schedule
The Vikings football team took the field for homecoming on Oct. 6 having lost four straight games. Portland State was in danger of entering the bye week without any momentum to carry into the remainder of the season. After a 77-10 rout of Idaho State at Jeld-Wen Field 10 days ago, the Vikings have renewed hope entering the heart of conference play.
"It's a lot better than losing and feeling bad for two weeks," head coach Nigel Burton said.
Against the Bengals, PSU's offense exploded for nine touchdowns after averaging 25 points a game during their losing streak. Quarterback Kieran McDonagh accounted for six touchdowns (two passing, four rushing), and D.J. Adams led the team with 148 yards on the ground.
The defense also showed major improvement, holding Idaho State under five yards a play. PSU also forced four turnovers, returning an interception and a fumble recovery for touchdowns.
"I think guys bought into doing their jobs," Burton said. "It's very clear to them, when they play to their potential, how good they can be."
Moving forward
The Vikings had a weekend off to recuperate, but they have continued to work hard throughout the two-week break, as they hope to carry the momentum from the homecoming win into the second half of their schedule.
PSU travels to San Luis Obispo this weekend to take on California Polytechnic, a team ranked 12th in the Football Championship Subdivision coaches poll and undefeated through its first six games. The Vikings have spent the majority of their bye week preparing for the Mustangs' triple-option offense, a ground-based system that has averaged more than 300 rushing yards a game this season.
Burton noted that preparing to play Cal Poly isn't as difficult as preparing for other games. "We do some option things within our offense," he said, "so it's not like speaking a totally foreign language, but it's like knowing Spanish and having to learn Portuguese."
The game against Cal Poly is the first of three games against FCS-ranked opponents to finish the regular season. After games against the University of California, Davis and Northern Colorado, the Vikings face fifth-ranked Montana State in Bozeman on Nov. 10. The following weekend, first-ranked Eastern Washington comes to Jeld-Wen Field to face the Vikings for The Dam Cup in the regular season finale.
"We've played a lot of young guys who I think have to make young-guy mistakes. They're learning from those mistakes so they're not repeating them," Burton said. "If we do that, I think it will be a good finish."