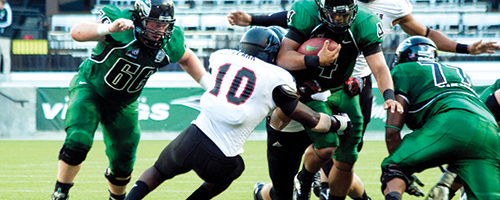 Portland State loses its first Big Sky game
The Vikings took all of 1:36 to score their first touchdown in Big Sky play against the Southern Utah Thunderbirds, who have never played in a Big Sky conference game before, but the rest of the game didn't go as well.
Portland State dominated the first quarter with a lead as large as 18 points. But the next three quarters were controlled by the Thunderbirds, who fought back, took the lead and stopped Vikings quarterback Kieran McDonagh at the goal line as time expired, winning the game 49-42.
"I thought I got it," McDonagh said. "But every guy is going to say that. I think I was pretty close."
Offense wasn't the problem for Portland State, as they put up 587 yards. However, the Vikings had four turnovers, and the Thunderbirds capitalized on them. Southern Utah scored 17 of their 49 points as a result of PSU mistakes.
"Turnovers didn't go our way," senior linebacker Ian Sluss said. "Little things didn't go our way. When you give up 49 points, it's not your day."
At halftime, Portland State's lead had been cut down to just eight points. To start the second half, Josh Smith of Southern Utah ran back the Vikings kickoff for a 95-yard touchdown. The Thunderbirds went for two to tie up the game, and converted.
For the rest of the third quarter, the game went back and forth. PSU would take the lead, and then the Thunderbirds would tie it up. That changed with 8:06 left in the game, with the score tied at 42. Quarterback Brad Sorensen and the Thunderbirds put together a 6:31 drive that ended with fullback Lavell Ika scoring on a one-yard touchdown run. PSU was left with 1:35.
The Vikings quickly went to work, and found themselves on the two-yard line with 18 seconds on the clock. Southern Utah's defense stopped McDonagh's passing game, so the freshman quarterback went for the sneak as time expired. The referees signaled that he didn't make the end zone, and the game ended with cheers from the Thunderbird fans filling Jeld-Wen Field.
"Coach just called my number, and I tried to get in there," McDonagh said. "Apparently I fell short."
McDonagh finished the game with 270 yards passing and 52 yards rushing.
Sophomore Shaquille Richard had a big game with 93 yards rushing and two touchdowns. Sluss had 12 tackles and an interception. The Thunderbirds were led by Sorensen, who completed 27 of his 36 passes for 311 yards and four touchdowns.
The Vikings will travel to Flagstaff, Ariz. to play Northern Arizona University in their second Big Sky game this Saturday. The Lumberjacks are ranked 22nd, with an overall record of 3-1.