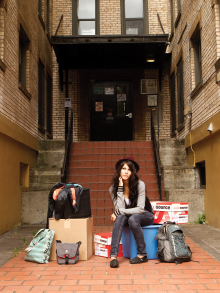 Freshman year, the dorms can be exciting—a great way to make friends and adjust to living away from home. Surrounded by peers riding a similar freedom high, students get a new sense of community and what it means to be in college.
But there is no denying the high cost of living on campus after freshman year. For all the conveniences, a studio space in dorms such as the Blackstone or Broadway Housing Building will run $743 to $843 monthly for upperclassmen and freshmen over 20 years old. That's close to the cost of renting the same space in the Pearl District!
There are many advantages to living off campus, including saving money, seeing more of the city and getting some exposure to the challenges of the real world. Being responsible for your own living situation is an important step toward independence and maturity, right?
However, finding a place to live on your own is not easy. Here are some basic tips to keep in mind when leaving the nest.
Planning ahead
It's good to have an idea of where you want to be in the next year. Renting a house with a group of friends? Sharing an apartment with a roommate? Renting a room or a studio on your own? Have a goal.
With the vacancy rate in Portland hovering at 3.4 percent, the second lowest in the nation, it may take a while to find a place that is available and works for you. Start looking for a place at least six weeks before you have to move.
On the other hand, be ready to claim a space the day you see it. Have your financial, rental and credit history prepared, and enough money in the bank for the deposit. The place you look at in the morning could be gone by the end of the day.
If you have your eye on a specific apartment, talk to the manager even if there aren't any current vacancies. Give them your information and rental history and ask to be put on a waiting list.
Make a point of calling once a month to check on vacancies. Someone will likely move out within the year, and you will have laid the groundwork to be next in line.
Think about whether you would be better suited to an apartment or a room in a house, and whether to rent from a landlord or a rental management company. The advantage of renting from a private landlord is that negotiations can be more flexible and personable. You can often negotiate move-out dates and property maintenance if you are on good terms with the owner. A person renting out a space on their own is much more likely to be forgiving of details such as poor or nonexistent credit history.
Property management companies have strict guidelines regarding credit history and often require cosigners for first-time renters. On the other hand, property management companies (hopefully) have a degree of guaranteed professionalism and can be counted on to fix things on the property and to respond to needs and complaints.
Lastly, know your rights and responsibilities as a renter. Renting a space, be it a house, room or apartment, is a legal contract with certain responsibilities and rights assigned to both parties.
RIGHTS
• Right to privacy: Though you are renting a space that you do not own, you are making a home there and do not have to tolerate anyone coming in at any time without legal authorization. A landlord must give 24-hour written notice before coming on the property, unless it's an emergency.
• Right to a habitable space: A person cannot expect to charge rent for a house that is falling apart or has a mold problem. That includes the guy trying to rent the space behind the water heater in his basement where bands practice.
• Right to security: Most students cannot afford renter's insurance, but you can expect the landlord or property manager to update the maintenance and security on the property. You can also install your own locks or perform other bits of maintenance, and even take the cost of material off your rent, so long as you reach an agreement with the landlord or manager beforehand.
RESPONSIBILITIES
• Pay rent on time: That's an easy one. Watch the piggy bank and watch the calendar. If the rent is over a week late, you can be evicted within 72 hours.
• Don't be a nuisance: Being a bad neighbor or renter or using the space for purposes other than residential living can be grounds for eviction, and you'll be expected to vacate within 24 hours.
• Leave it like you found it: Some wear and tear is to be expected after a space is lived in, but use good judgment and keep it clean. Do your best to make it look nice before final inspection so you can get your security deposit back.
NEIGHBORHOODS
Moving into a trendy neighborhood with more bars and venues than parks and grocery stores often isn't as glamorous as it seems for students. The rent is higher, and the temptation to go out every night can lead to a regrettably deep hole in your pocket.
Try to find somewhere with affordable rent, proximity to practical things like a grocery store and laundromat, and either a good bus or MAX line or a good bike route to campus.
Rent keeps going up, and areas close to campus that once were cheap are now pricier. Don't be afraid to go farther east and north. Places like St. Johns and the Foster/Holgate or Woodstock areas are not as far away as you might think. For students on a budget, it is well worth saving $100 a month to live a bit farther away. Even on a bike, the commute to campus from St. Johns is less than an hour, with marked bike lanes most of the way along Willamette Boulevard and Greeley Avenue.
In the southern neighborhoods, bike-friendly streets leading through Ladd's Addition and the Springwater Trail make the commute to campus fairly easy.
ONLINE RESOURCES
• You can see the detailed list of all renters rights and responsibilities posted by the Oregon State Legal Bar: osbar.org/public/legalinfo/1246_RightsDutiesTenants.htm.
• Community Alliance of Tenants: oregoncat.org.
• State of Oregon Housing and Community Services: cms.oregon.gov/ohcs/Pages/index.aspx.