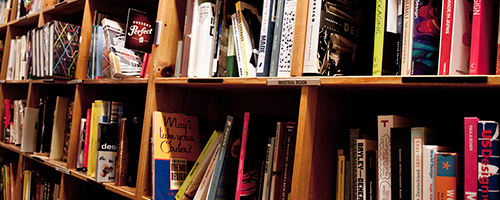 [portfolio_slideshow id=55065]
Every city has character. Everyone knows Portland for its plethora of mostly odd entertainment options mixed with Mother Nature and a dash of nerdcore. Here's a list of parks and businesses, both nationally known and obscure, that put a face on Portland's zany flavor. Several of them are free, and the rest cost less than $10 to enjoy. To make it easier to choose where to explore, this list is divided into three categories: well-known, psychotronic and outdoorsy. Every establishment mentioned is either within walking distance of the Portland State campus or can easily be reached by public transit.
The well-known
Powell's City of Books
1005 W Burnside St.
503-228-4651
9 a.m.–11 p.m.
Books covering 122 subjects in more than 35,000 subsections fill 68,000 square feet of the main Powell's location downtown. No wonder it claims to be the world's largest independent bookstore.
Touring authors speak in the Pearl Room on the third floor. Rows of art and entertainment books fill the shelves. Nestled in the corner, a cozy rare-book room houses scarce titles like History of the Expedition Under the Command of Captains Lewis and Clark to the Sources of the Missouri, Thence Across the Rocky Mountains and Down the Columbia to the Pacific Ocean—selling for $25,000 without the map, according to Michael Kim, who has worked at Powell's for six years. He said another version with the original map is selling for $350,000, although he's never actually seen it.
Used titles can go for as cheap as $1. The Powell's website has a $7-or-less literature section filling 2,717 pages!
Pioneer Courthouse Square
710 SW Sixth Ave.
503-223-1613
24 hours a day
Portlanders—even transplants—call it The Square. This urban courtyard in central downtown crawls with people day and night; tourists dodge transients and Starbucks hipsters bop around with busking musicians, gutter punks and even chess freaks (they play on the public chess boards). The Square also hosts Flicks on the Bricks—free movies projected on a big screen—during the summer, and more than 300 events every year. Just avoid it at night, unless you're fond of riffraff.
The Roxy
1121 SW Stark St.
503-223-9160
24 hours a day, closed Mondays
The Roxy is the best place for bottomless coffee, a greasy breakfast or cheesy grits, especially at 4 a.m. It's a must-visit for goths, punks and drag queens. This inner-city Quentin Tarantino shrine has a jukebox that holds some of the same CDs it did in the '90s (like the Twin Peaks soundtrack!). A Jesus statue hovers overhead as you scroll through the music selection—you can look up his loincloth! The Roxy gets packed when bars close at 2 a.m. and sometimes has a waiting list, especially on weekends.
Voodoo Doughnut
22 SW Third Ave.
503-241-4704
24 hours a day
Sure, their doughnuts are delicious, but you'll end up eating your hand before you can grab a Miami Vice Berry. Bring your best friend, your dog—anything but an appetite. The line usually wraps around the block.
Shanghai Tunnel Tour
120 NW Third Ave.
503-622-4798
Times and prices: shanghaitunnels.info
Some of the buildings downtown are linked via shanghai tunnels, which are basically brick basements connected to each other. Some people say these subterranean paths are the most haunted places in Oregon; there's even a separate paranormal tour available. The official walking tour website offers the chance to explore the Merchant Hotel, Old Town and Chinatown.
Ground Kontrol Classic Arcade
511 NW Couch St.
503-796-9364
Noon–2:30 a.m.
All ages until 5 p.m.
21+ after 5 p.m.
Play Tetris, drink a Pabst Blue Ribbon and listen to Skinny Puppy (if there's a disc jockey)—all at once. Ground Kontrol rules! But forget all that—there's an Addams Family pinball machine upstairs and a the state-of-the-art bathroom decorated by Tron! Actually, Jessica Helgerson did the interior design. On her website she states, "In the restrooms we took our cue from the most classic of all classic arcade games; the men's restroom floor is a to-the-pixel accurate rendition of Pac-Man, the women's is Ms. Pac-Man." Most of the games cost a quarter, but a few cost 50 cents. According to the official website, Ground Kontrol offers "over 90 of the best arcade games from the past four decades, all in an authentic game room environment."
The psychotronic
The Freakybuttrue Peculiarium and Museum
2234 NW Thurman St.
Sunday, Wednesday and Thursday 11 a.m.–5 p.m.
Friday and Saturday 11 a.m.–9 p.m.
According to employee (and relative through his sister's marriage) Matthew Vasquez, the owner, his son and his friends are local animators who have worked for Laika and the Portland-based TV series Grimm. If people knew that walking in, props like the life-size installation of midget aliens doing an armed autopsy experiment on a guy wearing hiking boots would make more sense. But it doesn't explain the dried mealworms and scorpions offered as sundae toppings on the Bug Eater's Delight (only $4). They also sell gag gifts and random novelty items. The Peculiarium staff encourages patrons to deface the glow room. It's a tagger and street-artist paradise, where customers can legally vandalize private property. The neon-yellow/green room is covered in a collage of mostly incoherent scribbles from floor to ceiling.
Movie Madness Video
4320 SE Belmont St.
503-234-4363
11 a.m.–11 p.m.
This is the most comprehensive and tasteful video store in America. Browse the Mystery Science Theater 3000 video collection and see real movie props, like a building model used in both Blade Runner and Ghostbusters. They offer new releases, but the best titles are psychotronic, horror, foreign or anything old, art-house and not mainstream.
The outdoorsy
Lone Fir Cemetery
2115 SE Morrison St.
Trees and foliage sprawling across 30 acres make this cemetery a tranquil sanctuary to visit for a walk, day or night. Restoration nonprofit Friends of Lone Fir state on their website, "Its first burial was Emmor Stephens, father of landowner J.B. Stephens, who died in 1846." That's 167 years ago (although Oregon Metro says it was founded in 1855). This historic burial ground ranked ninth on National Geographic's "Top 10 Cemeteries to Visit" list.
Witch's Castle
Northwest 29th Avenue and Upshur Street
In 1929, the stone house known as Witch's Castle was merely a bathroom. Now it's a picturesque moss-painted structure in Forest Park, just past the intersection of the Lower Macleay and Wildwood trails in Macleay Park and a little less than a mile from the main entrance. Because of a violent family feud between Danford Balch and his new son-in-law, Mortimer Stump, Balch shot Stump dead, went to jail, escaped, went back to prison and was then hanged at the public gallows—the first legally executed person in Oregon. The moniker Witch's Castle comes from a rumor that Balch believed his wife bewitched him, according to Kris Lively, founder of the Portland Oregon Paranormal Society. Aside from the alleged hocus-pocus, the hike leading to Witch's Castle vibrates with neon-green flora.