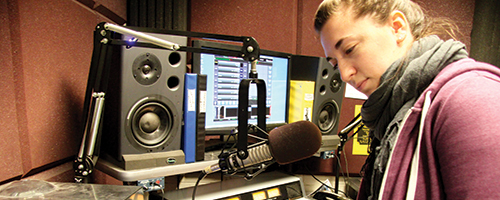 KPSU hopes to increase signal strength, reach
As a streaming radio station on the web, KPSU gets around 10,000 unique visitors per month—not too shabby for a college radio station. But one would be forgiven for not listening to them at 98.1 on the FM dial, as the station's reach is somewhat limited.
"It's about, maybe, three blocks by three blocks," Jay Turk, KPSU's station manager, said.
"Two hundred meters is what we have right now," Luke Carlson, KPSU's programming director, added. "On a really good day you can catch it for about a quarter of a mile on 405."
Despite being Oregon's largest university by enrollment, Portland State lacks, and has lacked for years, radio representation proportional to its size.
From 1994 to 2010, KPSU leased an AM signal for part of the day from Benson Polytechnic High School, but clashes over FCC interpretations and programming issues ended this arrangement.
"Right now there is no radio station in Portland that speaks for and to students," Turk said.
But thanks to the Local Community Radio Act of 2010, signed into law by President Barack Obama early last year, KPSU and indeed almost any noncommercial entity will soon be able to apply for a Low Power FM broadcasting license, which would increase KPSU's signal strength 50 times, from two watts to 100.
Turk estimates that this could allow the station to be heard within a square area bordered by Lombard Street to the north, Southeast 82nd Avenue to the east, the Sellwood neighborhood to the south and the West Hills to the west.
Part of the reason a larger presence for KPSU is a big deal is the relative dominance of huge media conglomerates in the FM spectrum in Portland.
According to pdxradio.com, 13 of the city's 22 FM stations are owned by out-of-state entities, of which Clear Channel (Texas) and Entercom (Pennsylvania) own five each, including such major players as "Wild" 107.5, 99.5 "The Wolf" and 94.7 "Alternative Portland."
"Everything is homogenized," Carlson said. "Most radio stations that broadcast here in Portland are broadcast through Clear Channel. You can hear the same thing—literally the same song—played after the other same song: no difference between Los Angeles, Chicago or, you know, Bozeman."
While these stations may have a local person to jump on the air for a minute or two to say what the tracks are, Turk said that person may not even be in Portland.
"These giant conglomerates are producing media at such a fantastic rate, so ubiquitously, that the small media groups are unable to compete. It's
not a level playing field," Turk said.
Currently, the LCRA is undergoing an appeals process, but by early winter the details should be worked out, with an application window for licenses opening in the spring.
The station has been working with PSU's Office of General Counsel in order to be ready when the window opens, as it might only be open for a week or even less.
"Luckily we have the support of the university," Turk said, noting that last spring the student fee committee granted the station $20,000, now in "designated reserve."
"Which means that it's not just 'Here's 20K, go blow it!'" Turk explained. "They granted us $20,000 in order to pursue this signal and obtain it."
The stronger signal would be an entirely new signal (i.e., not 98.1), though the frequencies and number of stations that will become available has yet to be determined by the FCC.
This uncertainty regarding how many new stations will be available and what other groups will be applying for them is not lost on Turk.
"There will be competition for this," he said. "But I really cannot fathom how somebody could make a better argument than us."
Since PSU is frequently referred to as a "commuter campus," an increased signal strength could give KPSU the opportunity to reach many more students, either in their homes or while on their way to and from school.
"Very few of the students live on campus," Carlson said. "So the best way to reach them, in many respects, is to give them the opportunity to just turn us on."
Those same students, though, will be both the station's biggest asset and biggest obstacle in the near future as the station goes through the application process.
"What's going to trip us up, if anything, is going to be not having the support of the community, not having the support of the student body," Turk said, adding that, for the station to be successful, it needs to do a good job of explaining why it's important and showing people how they can help.
"Contrary to popular belief, we do more than just play music on the air," Carlson said. "We provide a valuable resource to local groups such as the WRC [Women's Resource Center] and QRC [Queer Resource Center]: Basically, anybody who wants to contact us."
The station doesn't just give a voice to on-campus groups; Turk noted that KPSU works closely with nonprofits in the area, such as the Cafe at Sisters of the Road.
"We offer an avenue for these groups, both on and off campus, to get the word out about about their events and doings, through PSAs [public service announcements] that we offer for free," Turk said.
The station is always looking for disc jockeys, especially for talk and foreign language shows.
"We have so much diversity at this university, students from all over the world," Turk said. "We have a lot of great, diverse programs, but the diversity of the station as of yet does not reflect the diversity of the university. I don't know that it ever could, because it is so diverse, but it's something that we strive for: We'd like to do better."
---