Documentary Sing Your Song puts even more heroic gloss on activist musician Harry Belafonte
While you may be familiar with Harry Belafonte in his role as African-American singer and entertainer, Sing Your Song, a documentary following his life up to the present, reveals yet another side of Belafonte: the activist.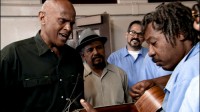 This 2011 HBO film spends less time presenting Belafonte objectively and more time displaying a controversial can-do hero who just happened to top the charts with the "Banana Boat Song" between his noble political endeavors. Belafonte was certainly heroic, but the film itself comes off as too slanted and ultra-glamorized.
I must make this clear: Sing Your Song is a good film, in that it contains the required amount of moral messages and inspirational stories. Now let's move on.
The film is more of an autobiography than a traditional documentary, and it stars Harry Belafonte as both the narrator and the subject. His comments weave in and out of scenes and add helpful (if slightly rehearsed) insight into the man himself. The film feels generally rushed and steps over the more negative portions of Belafonte's life.
Director Susanne Rostock is a veteran film editor, and her skills show her industry background as she cuts from archival images to Belafonte performances and narration, all of which flow seamlessly.
For her directorial debut, Rostock delivers a well-polished piece, but it feels calculated and almost deceptive due to Belafonte's endless heroism and consistent perfection (after further investigation, I found that Belafonte's daughter, Gina, is on the production staff, which explains a lot). Footage of civil rights conflicts are followed by Belafonte avidly protesting, and Martin Luther King Jr.'s televised speeches are intercut with interviews. The pattern of Harry Belafonte stepping in to save the day comes across loud and clear.
All of this is not to say that Harry Belafonte was not highly inspirational or important. Quite the opposite: His life story is a glowing one. He was a prominent civil rights leader in both Africa and America, was named cultural advisor to the Peace Corps by John F. Kennedy, worked side-by-side with MLK, spoke and performed radically on network television, organized several AIDS charity events with UNICEF and made his opinions about the Iraq War and George W. Bush's presidency abundantly known.
On top of his social and political activism, the busy Belafonte dazzled America with his delightful music, stage work, television spots and filmography. Rostock does a fabulous job of incorporating performances and songs—which serve to lighten up the subject matter for a few moments—and reminds the audience why we all love Belafonte in the first place.
The opening half of the film also includes dozens of introductions and friendly name-drops of people such as Sidney Poitier, Marlon Brando, James Baldwin, Charlton Heston, Petula Clark and Tony Bennett, who provide the other, less-explored dimension of Belafonte: the man and friend. I'm a sucker for any documentary involving music or pop culture, so these scenes kept me engaged.
Sing Your Song is an entertaining and well-crafted biography. That said, its entertainment value comes off as highly contrived. For a man who inspired so many people, the Harry Belafonte depicted in this film left me feeling oddly uninspired.
Northwest Film Center presents
Sing Your Song
Friday, Jan. 27, 7 p.m.
Saturday, Jan. 28, 2 p.m.
$8 students