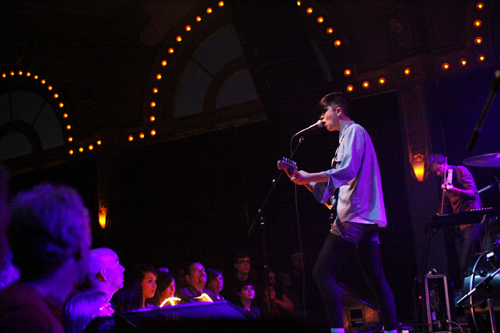 Over the last 10 years, Portland has seen a rapid decline in all-ages live music venues. Younger college-age kids living on their own in the city find that they are veritable outcasts from the live music culture that defines a huge facet of the urban experience. Especially in Portland, a city formerly known as an all-ages music hot spot, where the field of options has dropped off significantly.
With the closures of hold-steady venues like Berbati's Pan, the Satyricon and smaller hidden gems like the Artistery, Portland underagers are being left out in the cold. It's no wonder that the rise in house-show culture has continued to thrive as teenagers look for alternative ways to see live music.
So what's the problem? Why are these places closing? One answer, three words: alcohol and money.
Portland doesn't have laws prohibiting the sale of alcohol in a venue that hosts mixed-crowd shows, but state laws require venues to be vigilant about keeping minors away from drinking areas and keeping the alcohol contained. This can be a big issue, and one that forces venues to choose between wet and dry.
The greater issue lies in revenues and how they are generated. And the bottom line is that booze sells, so decreasing alcohol-consumption space by opening up a show to an all-ages crowd is simply not profitable. To put the issue in perspective, liquor sales in Oregon last year totaled $435 million, not including beer and wine.
This leads to smaller, underground venues closing their doors because they can't afford to bring in big name acts that guarantee high ticket sales. And they can't survive on $5–10 door covers or $20 or less ticket sales. Case in point: Berbati's, and the long-since-gone Meow Meow.
Venues that can host all-ages shows are those with the principle assets to invest in big name acts with pricey tickets, which is how they survive while limiting the potential for alcohol sales. Even bigger venues like the Wonder Ballroom and the Hawthorne Theatre usually run 60 percent or more of their shows as 21 and over only.
So what are the all-ages venues left standing? Here are a few that still offer a wide variety of live music, if at a higher ticket price.
Crystal Ballroom
Perhaps the most well known venue in Portland, the Crystal has been called the flagship of the McMenamin's franchise and is the hub for the majority of big name acts passing through Portland.
With the balcony reserved for 21+ audiences and a designated section on the floor for alcohol, the bouncy floor section closest to the stage is generally open to all ages.
With the power to draw big acts, the Crystal has a consistent line up of all-ages shows. Although the ticket prices are sometimes steep, the Crystal offers a semi-intimate setting and a chance to see artists on their way into the higher strata of fame. For example, The Black Keys played the Crystal in 2010 and just played the Rose Garden last week.
Roseland Theater
Based on a similar model to the Crystal Ballroom, the balcony is reserved 21+ seating with an all-ages floor. Though there are more 21+ shows here than at the Crystal, the Roseland has staked out a large chunk of the all-ages market recently by bringing a steady stream of high-profile electronic artists to Portland. Shows like Skrillex, Feed Me and Rusko sell out in minutes, more than offsetting the need to sell drinks.
Backspace
One of the last small, all-ages venues left standing, Backspace also provides one of the more progressive models for an all-ages venue that can still benefit from selling alcohol.
By selling only beer and wine and negotiating with the Oregon Liquor Control Commission, Backspace keeps the entire venue open to everyone, regulating alcohol sales and consumption through wristbands for drinkers and extra staff monitoring the crowd. Backspace offers the rare opportunity for teens to see a variety of local and lesser-known acts.
A regular stop for local legend bands like The Thermals, Backspace is one of the most quintessential Portland venues, hosting poetry slams, comedy nights and open mic nights as well.