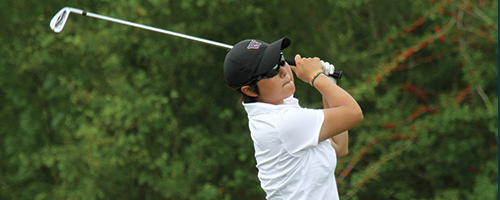 Kristin Henno named Big Sky golfer of the week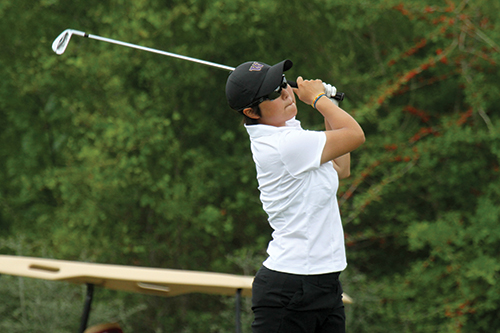 Kristin Henno placed 10th in the WSU Cougar Cup this week, finishing the tournament six over par 220 and leading to her being named the Big Sky Conference golfer of the week. Overall, the Vikings placed 7th out of 14 teams. Britney Yada tied for 16th and A Ram Choi for 40th.
Earlier this month, the golf team started the season by placing 12th overall at the Oregon State Invitational at Trysting Tree Golf Club. Leading the team there was Choi with five under par, placing 12th overall. Henno tied for 41st and Yada for 50th.
Head coach Kathleen Takaishi was disappointed in their season start. "It was good to get a few competitive rounds in to see what our weaknesses are," she said.
Along with the addition of a few new players, the team is building on Yada's experience. Yada led Portland State's team during the last three years. In the 2011–12 school year, she was awarded 1st team All-Big Sky Conference, All-Big Sky Conference Tournament and Big Sky Conference golfer of the week.
"Britney has had a successful career at Portland State. She holds the PSU career scoring average with 76.04, 54 hole tournament scoring record with 6 under par 210, and tied the 18-hole scoring record with a 67. She has been named to the first team All-Big Sky Conference team all three years," Takaishi said.
Choi, a transfer from Washington, shined at her first appearance on the PSU team by tying a school record. "A Ram had a great summer," Takaishi said. "She competed in the LPGA Canadian Open."
The next few months will set the stage for the Big Sky Classic, and Portland State hosts the upcoming 3rd Annual Rose City Collegiate Oct. 1–2 at Langdon Farms Golf Club.
This is just the beginning of the year for these ladies. They have the opportunity to bring another title home to PSU, and Takaishi is encouraging them.
"Our team goal every year is to win the Big Sky Conference Championship. I believe we have the depth in our lineup to do that this year," she said.