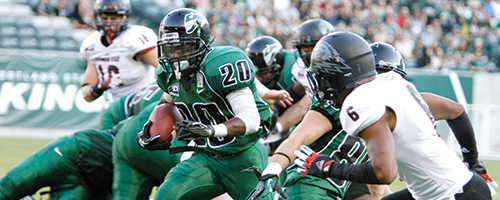 Vikings football to face UC Davis after loss to Cal Poly
After losing to the Mustangs on Saturday, the Vikings football team prepares to face the University of California, Davis this weekend at Aggie Stadium. The Vikings have had ups and downs this season (a four-game losing streak but also a 77-10 win against Idaho State University), and their most recent game was no different.
California Polytechnic State University entered play on Saturday on a seven-game winning streak. The Vikings fought hard in the first half and managed to tie the score at 17-17 before the break, with a 35-yard field goal from kicker Zach Brown, who is just returning to the field after an injury.
The Mustangs opened the second half with an 11-play drive and a 41-yard field goal to pull ahead. The Vikings answered with a touchdown from Justin Monahan, which put them up by five points. But the Vikings couldn't maintain the lead, and in the end they fell 37-25.
"I thought our guys played hard to the end," head coach Nigel Burton said. "We needed to do a little bit better job controlling the line of scrimmage. We just need to do a better job on third down, making plays and getting off the field."
The Vikings now move on to face an old opponent in UC Davis. They have played the Aggies 11 times, but this will be the first time they have played them in a Big Sky Conference game.
The Vikings enter the game 2-5 overall and 1-3 in conference, but they have yet to win an away game. UC Davis lost to Cal Poly this season as well, and they are also entering the game after a loss on Saturday, when Northern Arizona University beat them 21-7. They are currently 3-5 overall and 2-3 in conference play.