Fitness programs are a great way to stay in shape this winter
The college life can be hard on the body, especially for non-athletic majors. If you're feeling particularly out-of-shape in the post-holiday season, Portland State can help. Yoga, Pilates, Zumba, cycling, strength training, Boot Camp and kickboxing are just some of the classes offered at Portland State this winter through the Rec Center.
The fitness program at Portland State is a very diverse program that offers up to 60 classes per week. The program has been growing in size and popularity every year. Yoga and Zumba tend to attract the most participants.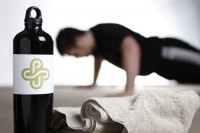 "We have so many yoga classes on the schedule and they are still all huge," said Erin Bransford, health and fitness coordinator. "We don't have as much Zumba, but those classes are also huge."
The program also offers "Boot Camp" classes, vigorous circuit training exercises meant to mimic military programs. For the students who want to take a less vigorous course, the program offers a sneaker-camp class. Students who complete the sneaker-camp class can go up and take boot-camp classes, or stay at the sneaker-camp level.
The fitness program is very accessible to everyone. Membership is free and automatic to all students. To join a class you just have to show up, get a pass from equipment issue, and go to the class that you want to join. Only participants that have never been a part of the fitness program have to sign a waiver that will allow them to take any classes.
The program has consistently grown from year to year. For example, the program started with three individual trainers, and that number has now grown to 12.
"From the first year we opened to last year every number has gone up," Bransford said. "It's definitely growing. Personal training has grown significantly, that took some time because our program was really small initially. But the group [exercise] classes and people just walking into the weight room have been popular since the beginning."
The fitness program also offers an hour each day Monday through Thursday for anyone who has individual questions for a trainer.
The drop-in hours offer students the opportunity to get questions answered in a one-on-one situation, as opposed to a class or group.
"Anyone who has some questions…They just want to know, 'All I do is crunches for my abs all the time so can you tell me some other types of ab exercises,' or, 'I really want to know how to use this piece of equipment, can you explain it to me?," Bransford said. "So it's just someone super knowledgeable that's here specifically to answer questions."
The trainers are available at a desk in the weight room near the front of the entrance.
Aside from no open-toed shoes and jeans allowed in the weight room, the fitness program is very lenient on their rules. It is similar to any other gym or club that offers workout classes.
The fitness program offers classes that any Portland State student can take for free. The Rec Center is open seven days a week. The pool will be closed on Jan. 25 for a dive-in movie.
Drop-in fitness advising
Fitness trainers have open question-and-answer time scheduled for an hour a day throughout the week
Monday 6–7 p.m.
Tuesday noon to 1 p.m.
Wednesday 5–6 p.m.Thursday 4–5 p.m.