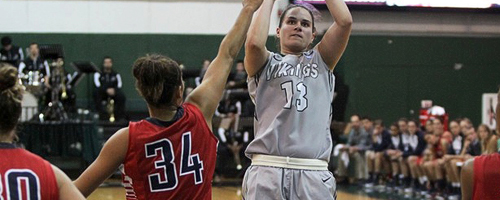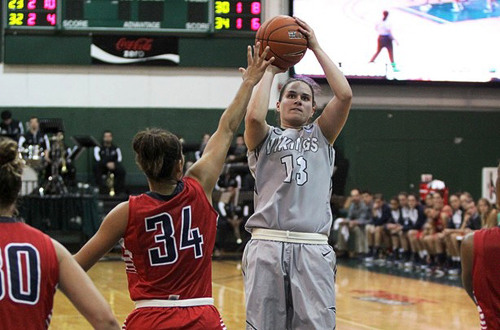 Going into the game against the University of Northern Colorado on Saturday, a lot of things had to go right for the women's basketball team to make it into the Big Sky tournament. Along with a win against the Bears, the Vikings would have needed multiple upsets within the conference in order to have a shot of snatching the final playoff spot. Portland State stayed with Northern Colorado for a good portion of the first half, but the team clearly felt the loss of injured forward Angela Misa on the defensive end as the Bears cruised to a 63-48 win.
For head coach Sherri Murrell, it's clear what the team needs to work on going forward. "We all have to get physical [on defense]," she said. "This is a physical conference—everyone is playing at another level right now, and we have to match that and play above that."
The Bears, now 18-10 overall and 15-4 in conference, proved that they deserve to be one of the top two teams in the Big Sky, taking control early and going ahead by as many as 19 in the first half. The Bears outshot PSU from the field and from behind the three-point line by a wide margin, going into the locker room with a 39-22 lead.
The second half was no better. The Bears continued their aggressive play on offense, stretching the lead to 30 midway through the half. The Vikings chipped away at the difference for the remainder of the game, but the Bears came away with a comfortable victory.
Sophomore guard Allison Greene led the Vikings with 16 points and six rebounds, while Keaton McFaddden and Allie Brock chipped in six points each. No one on the Vikings was able to keep pace with Northern Colorado guard D'Shara Strange, however, who scored 28 points on 11-of-17 shooting in 25 minutes of play.
PSU is now on a five-game losing streak, their longest of the season. They'll wrap up the regular season with two conference matchups at home. First up for the Vikings are the Weber State Wildcats on Thursday at 7:30 p.m., followed by the Idaho State Bengals on Saturday at 2 p.m. Though the postseason is no longer in the cards for PSU, the season isn't
over yet.
"Finishing strong—that is the number one focus," Murrell said. "We've been on the road five games straight, which is unheard of, and we had to endure it. We are looking forward to getting back home and finishing strong in front of our fans."