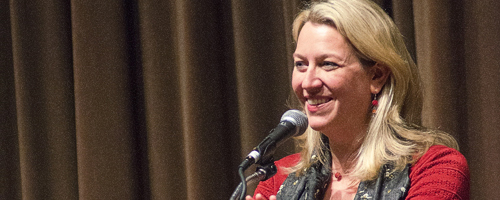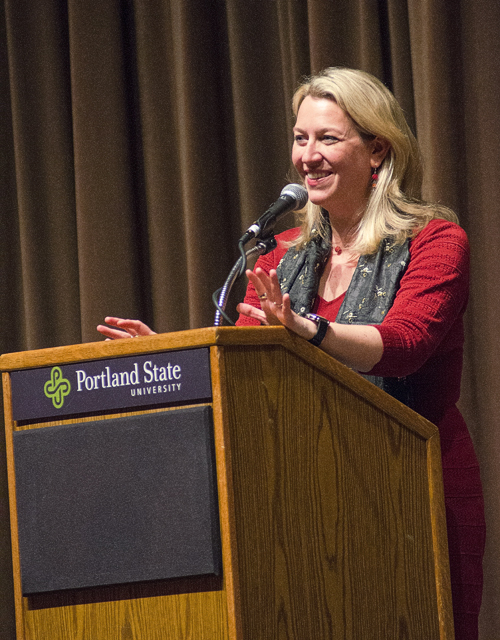 As Cheryl Strayed stood on the Smith Memorial Student Union ballroom stage last Monday night, she recounted a story about how a copy of her best-selling memoir, Wild, was recovered by a hotel staff member who had never read a book in English; the woman had introduced herself to Strayed on her book tour.
"She told me there were so many similarities in the book to her own life and her own struggles that she couldn't believe it," Strayed said, "and as she told me all this, she was weeping."
The crowd remained silent as Strayed continued.
"We all have more in common than we think. That is the beauty of literature: how it connects people," she said. "Many people look at the art of memoir as a narcissistic form, but through this art, if you allow yourself as a writer to go deep into your own story, into the real truth, the deep, dark truth, sometimes, it allows for that connectedness to happen, and readers identify with your story."
Wild, which Oprah chose to be part of her revamped book club, documents Strayed's 1,100-mile journey along the Pacific Crest Trail.
"Cheryl's book Wild has greatly inspired not only women, but men like me," said Michael McGregor, the director of Portland State's creative writing master's program, in his introduction at the beginning of the night.
One couple in the audience, Angel Lopez, a circuit court judge for Multnomah County, and his wife Wendy Squire, a local attorney and Portland State alumna, had both read the book.
"My 85-year-old father recommended it," Squire said. "He said it was the best book he had ever read."
Lopez felt that Strayed's candor was what readers connected with so deeply.
"Strayed is so open and honest in her writing," Lopez said. "She discloses just about everything. That is the mark of a brave soul."
Lopez had heard about Strayed's book several times last year while presiding over the drug treatment court for Multnomah County.
"During some downtime, one of the defense attorneys had mentioned the book," Lopez said. In the book, Strayed writes about her struggle with heroin use, which was one of the issues that Lopez had initially been curious about.
In Wild, Strayed's journey begins when her mother dies at age 45, leaving the 22-year-old to deal with the "unbearable pain" that came into her life. "My world split in two," Strayed said. "Those of you who have lost someone who is essential to you know exactly what I'm talking about."
At that age, Strayed "was still trying to define [herself]." She grieved in both "noble and respectful ways" and "self-destructive" ways. "Heroin," Strayed explained, was "one of those ways.
"I needed attention. I needed to be dangerous. I needed to take risks," Strayed said. Heroin was one the ways in which she filled these needs, along with "wild sexual promiscuity."
Eventually she came to grips with the reality that these things, heroin in particular, were "really fucking up my life."
In the middle of 1994, when she was working through the "process of escaping the clutches of heroin," she began to ask herself, "Why do I even need to be here? Why do I exist and what do I have to contribute?"
As fate or circumstances would have it, some time that same year Cheryl was standing in line at an REI in Minneapolis, waiting to buy a shovel, when she noticed a book, The Pacific Crest Trail, Volume 1: California. She read the back and as she did she felt a "blooming in her chest."
"It was so magnificent and so much bigger than I was," Strayed said of the trail. It was at this moment, just like she describes in the book, that the journey began.
"What's more important than the story is the reason I took [the trip] and the meaning I made of the experience," Strayed said.
Strayed explained with a smile that, just as there was a certain moment in time when she knew that she would take the 1,100-mile hike on the Pacific Crest Trail, there was also a specific moment when she knew that some of the material she had initially intended for an essay would end up becoming a book.
Recalling the night before her trip commenced, Strayed said, "My life was still fucked up in all these ways, but one thing I knew: I was going to take this hike. I had been telling all these people that I was going to do this."
Thinking back on it years later, Strayed knew she had to bear the heavy pack and hike the trail. She had to bear the unbearable some way, somehow, and she did. That pack was symbolic of the world she was living in, one without her mother—a world that had proven to be unbearable.
"That was the truth, but I [could] accept it by keeping on the trail and taking it one step at a time," Strayed said. "My mother was dead and she always will be, but I can be all right."
PSU English major Camilla Martin voiced a common reaction to Strayed's speech that evening.
"She's so honest," Martin said. "It's beautiful the way she is blunt and gentle. She is an amazing writer."
"Visiting PSU is like coming home," Strayed said, referencing a memoir-writing class she taught here a few years back.
"Cheryl coming to PSU [to] speak was an exciting way to kick off PSU's new lecture series," said McGregor, who, along with the rest of the audience, welcomed her back with a deafening round of applause.