Life Long Work Month hits Portland State's AB Gallery
Amongst the plethora of art shows and galleries in Portland is one that is a little different.
Located in the AB Lobby Gallery on the first floor of the PSU Art Building, Life Long Work Month is a completely student-run installation containing original artwork and collaborative pieces.
"It's basically forcing nine people into a room and seeing what they come up with artistically," said Steve Ebert, one of the artists involved with the exhibit.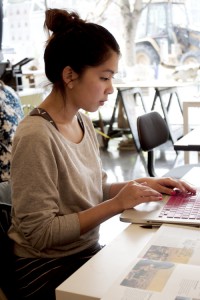 Ebert, who is also the graphic design manager at Portland State's Graphic Design Center, does primarily mixed media projects and hopes to challenge the designer stereotype with his work.
"I'm trying to show that design isn't so cut-and-dry computer graphics," Ebert said. "It's a melding of all art practices, whether it is collages, woodwork or metal sculptures."
The gallery will be open all month, and art is being added daily. The project is loosely based on a showcase by artist Chad Kouri, who displayed his work for a week in Chicago and documented his experience and process. His 2010 show, Long Live Analog, was a combination of paintings, collages, prints, typography, sculpture and other installations.
"Basically we'll be here all November from 9 a.m. to 9 p.m., and something different is going on all the time," Ebert said. "It could be performance art or hanging on a wall. What we're really trying to do is draw people in from the street."
The group of artists, who have named themselves "Family Style," is made up of nine university students: Allison Berg, Ryan Bush, Tom Cober (who also works as a graphic designer at the Vanguard), Steve Ebert, Randi Haugland, Corbin LaMont, Lana MacNaughton, Jeremy O'Connell and Priscilla Philsanoukane.
"We had some students apply, and here we are now," said Cober, one of the artists and organizers of the exhibit. "The public can come and watch us make art, and it's all a big collaboration project."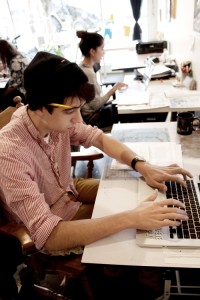 Cober loved the premise and collaborative aspect of Kouri's Long Live Analog. He has been working on his own art influenced by the Chicago artist.
"We're making this wall of collages, kind of as an homage to him, with cut up paper and other materials," Cober said. "Kouri flew in recently to give us some advice and do a few lectures, and he left us some things to work with."
The gallery space is a combination of art and kitsch, containing everything from screen prints and sculptures to a pink typewriter, plants and a record player complete with Steve Martin vinyls. Collaboration pieces, such as an alphabet composed of each artist's personal style, are emphasized in the collection.
"We were each assigned three letters of the alphabet to make. Like, I got 'J,' 'K' and 'L,' which I carved out of wood," Ebert said. "But others might draw them or do something else."
Life Long Work Month will be on display for the rest of November, and anyone is welcome to check out the gallery.