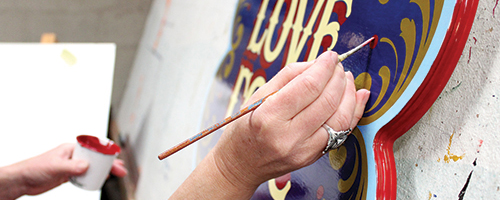 Portland to play host to inaugural Design Week
In the words of Portland-based professional designer Eric Hillerns, Portland is "a city of design and for design." As home to a host of world-renowned brands such as Nike and Adidas, the city certainly has a case to make for its design credentials. But how are things on the ground floor, where design finds its roots?
This week, Hillerns is reintroducing design in Portland through a weeklong spate of events stretching across the city, collectively titled Design Week Portland. Along with cofounder Tsilli Pines, Hillerns has teamed up with a number of area designers to present a collection of events occurring in a range of venues, including colleges and private firms. The events begin Tuesday, Oct. 9, and extend to Saturday, Oct. 13; some events require registration in advance, but many are open to the public.
"Our motivation is simple: How could we increase this visibility of the valuable events and programming already happening and also do it within the context of Portland? What was different here?" Hillerns said. "We were curious about whether disparate design disciplines could actually play well together. Have we been successful? To a degree, yes. But it's only a start."
Design Week events include several open houses, workshops and discussions. On Wednesday, firms and businesses throughout Northeast and Southeast Portland will present open house workshops; on Thursday, businesses in Northwest and Southwest will follow suit. Additionally, Design Week will feature designer show-and-tells, film festival screenings, and panel discussion featuring designers and writers.
Portland State will also get in on the action, with several Design Week events promoted by the university. The PSU graphic design department's Show and Tell series will feature designer Faythe Levine at the Art Building on Thursday, Oct. 11. On Friday, Design Week will join with the graphic design department to host a sign painting workshop led by local artist
Remedios Rapoport.
Rapoport is a Portland-based fine artist and sign painter with over 30 years of experience. She explained that her workshop will focus particularly on hand lettering in sign painting.
"Students will be able to take home knowledge and materials for the continued practice of sign painting," Rapoport said. "They'll come away with a greater understanding of what it takes to create hand-painted sign work, and what the layers of communication are within sign work as an art form. We'll also look at how colors and shapes can join with cultural or historical references to communicate qualities and emotions within sign art."
Design Week Portland
Tuesday, Oct. 9, to Saturday, Oct. 13
For a full schedule of events visit
designweekportland.com
This will be the first Design Week hosted by Hillerns and Pines after years of efforts to bring a design showcase to Portland. Hillerns cited the difficulty of developing larger partnerships with established event coordinators as one of the complications in consolidating the event.
"The effort started here long before we got together to create Design Week Portland," Hillerns said. "I have sat in meetings with the city government, with organizers of successful events, with universities who have all discussed how cool it would be to establish a design week. But when it came time to actually do it, the conversations fizzled."
The week will feature events for professionals and the curious alike, but Hillerns expressed hope that Design Week will contribute to a larger conversation about the role of design in the city.
"Design Week Portland is a work in progress," Hillerns said. "It's just a week, but we want it be something that is recognized by more people as being an important core of what we do and how we live in Portland. Really, the discussion is an all-day-every-day thing."
With everything from film events to writers' think tanks, solo exhibitions to artsy workshops, Design Week Portland will offer a glimpse at every facet of design. They'll even have a swag-laden truck on hand each day, where visitors can get a hold of information and event passports.
"Personally, I hope it brings people closer to the design work that is being produced here," Hillerns said. "I hope it spurs people to consider the possibilities that design enables. I hope it introduces new people to what's behind the practice of design and design thinking. And I hope it communicates the value of design."