Diwali, also known as the festival of lights, is a holiday celebrated by several religions, including Hinduism, Buddhism and Jainism. According to Vinod Sake, president of Portland State's Indian Student Association, all religions stress the overwhelming message of "the victory of light over darkness, but most importantly, the victory of knowledge over ignorance."
The PSU ISA hosted their own Diwali celebration on Nov. 10 in Hoffman Hall, kicking off the event with traditional Indian food, a ceremony known as aarti, henna and dancing. Students taught guests three types of dances: garba, dandiya and bhangra.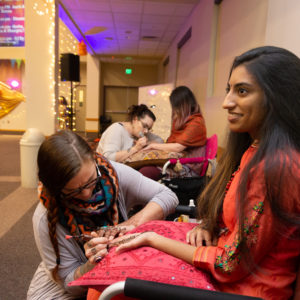 The five-day festival is celebrated by millions around the world. The dates of Diwali change annually, usually falling in October or November. This year, Diwali lasted from Nov. 5–Nov. 10.
"The Hindus believe there is a God. His name was Rama, who was exiled for 14 years. He lived in a forest for 14 years with his wife, and when he came back from his exile—the place he belonged to—the people celebrated," Sake said.
In honor of Rama's return, people lit oil lamps known as diyas, a tradition that still continues today. In India, diyas line the streets and can be seen in the windows of houses. In the spirit of the festival of lights, fireworks have become an important tradition in the modern celebration of Diwali, with many families partaking by setting off their own.
At the PSU event, several members of the ISA performed Aarti, a prayer ceremony critical to the Hindu faith and often called a ceremony of light. Lit candles are waved before the image of Hindu deities as a way of showing dedication and love.
In celebration of the holiday, Hoffman Hall was decorated in lights and swaths of fabric while lanterns hung from the ceiling. ISA students created a photo booth for guests to use, while the henna station was in popular demand.
"We want to bring not just the Indian community, but the whole PSU community together to know each of the cultures. We want to know others, and we want them to know why we celebrate Diwali," Sake said. "It's more of a get-together."