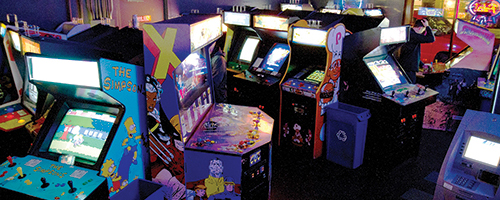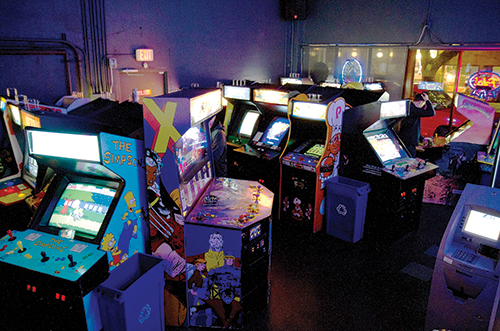 Looking for a place to reveal your insane knowledge of everything Joss Whedon? What about assembling a group of like-minded individuals who enjoy shooting zombies in their free time?
Portland offers hangouts for every kind of geek you can imagine. Whether you're into watching obscure movies or collecting novelty toys, comics or video games, there is a place for you.
Avalon Theatre & Wunderland
With six locations in Oregon—two in Portland—Wunderland is one of the cheapest hangouts in Portland that will guarantee a good time. The Southeast Portland location contains a nickel arcade and cinema where you can have a night of fun for less than $10. Play everything from skee ball to racing games and win tickets that you can redeem for a variety of prizes.
3451 SE Belmont St.
503-238-1617
wunderlandgames.com
Ground Kontrol
This barcade is a hot spot for gamers and nongamers alike. With classic games, a huge variety of pinball machines and frequent events, Ground Kontrol is a great place to hang out with friends and kick their butts at Tekken. If that doesn't convince you, Ground Kontrol has a full-service bar, so you can sip on some beer and scarf down a delicious hummus sandwich while you play. Ground Kontrol hosts a video game trivia night on the last Sunday of every month, where you have the opportunity to win a myriad of nerdy prizes. Game on!
511 NW Couch St.
503-796-9364
groundkontrol.com
Portland Geek Trivia
Comics and collectibles store Things From Another World has teamed up with hosts Cort and Fatboy for geek trivia night every other Tuesday at the McMenamins Kennedy School. Form a team of up to five people (you can also fly solo) and earn geek cred by answering questions and winning prizes provided by Things From Another World and other local businesses. In the event of a tie, Street Fighter tiebreakers are held. Prove your nerdy aptitude!

5736 NE 33rd Ave.
503-249-3983
facebook.com/PortlandGeekTrivia
Movie Madness Video
Filled with incredibly obscure and outrageous movies and real movie props, Movie Madness is the ultimate movie geek's wet dream. Most stores are organized according to typical movie genres—comedy, romance, horror, et cetera—but at Movie Madness they arrange movies in a much more unique way. Want to find the entire works of a specific filmmaker? They will all be in the same section. The Evil Dead's Bruce Campbell has even stopped in to check out the hype. With more than 80,000 titles, the store boasts an unmatchable collection of movies.
4320 SE Belmont St.
503-234-4363
moviemadnessvideo.com
OMSI
The Oregon Museum of Science and Industry is not only a great place to bring your family to check out the latest exhibit, the planetarium, the IMAX dome theater and the labs—they also have events specifically geared toward the science-loving adult. OMSI offers a night for those 21 and older the last Wednesday of every month, at which attendees can drink beer and wine, eat tasty snacks and explore a child-free museum. OMSI also holds Science Pubs, which are 21-and-older (minors are welcome with an adult) events where you can learn about topics in science and technology straight from the experts.
1945 SE Water Ave.
503-797-4000
omsi.edu
Backspace
Backspace is the perfect place to meet fellow gamers. With an isolated LAN center, Backspace has 10 computers with LCD monitors and headsets set up with high-speed Internet. Enjoy a cup of tea and a delicious barbecue tempeh wrap while you game. Some of the games Backspace offers include Left 4 Dead, World of Warcraft, League of Legends, Borderlands and Team Fortress 2. Stop in for a bite and a quick game or call in and reserve the LAN center for a get-together with friends.
115 NW Fifth Ave.
503-248-2900
backspace.bz
For more information on geeky events around Portland, check out the Portland Geek Council of Commerce and Culture's Facebook page. The council is made up of organizations and businesses around Portland with a desire to spread and support geek culture in Portland.
You can also check out geekportland.com for a calendar of geeky events happening around town.
Get out there and get your geek on. May the Force be with you.