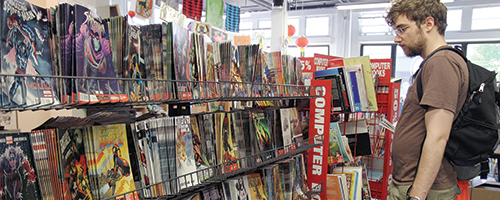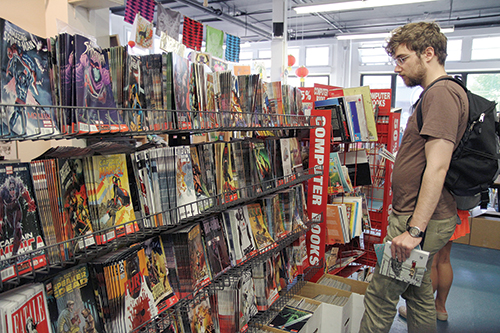 Portland is without a doubt one of the best places on earth to be a comics fan. Besides the multitude of comics publishers and creators in town, the Portland metro area is home to several great shops.
Scattered throughout the city, each store has its own idiosyncrasies, whether it's a focus on independent publishing or a wide sampling of pop culture. It's tough to go wrong when walking into a Portland comics shop, but it still helps to know what you're getting into.
Here's a look at five of the most prominent comic book stores in town.
Floating World Comics
Located next to barcade Ground Kontrol and just blocks away from Powell's, Floating World is Portland State's closest comic book shop. Owner Jason Leivian is one of the pre-eminent proponents of independent comics art in the city; he publishes comics under the Floating World banner, and last year the Vanguard covered the debut of experimental comics art festival The Projects, which Leivian headed up.
It's probably Portland's trendiest comics shop. You don't have to stick around long to see an ironically mustachioed, Goodwill-red-leather-jacket-wearing patron inquiring about obscure zines. Don't be so hasty to throw around the h-word, though, as most pretense disappears when you realize that they're reading X-Men, too.
400 NW Couch St.
503-241-0227
Excalibur Books & Comics
The epitome of the mom-and-pop, Excalibur has been in business for almost 40 years. And they haven't missed a beat—their store is immaculate. A vast library of graphic novels surrounds dozens of boxes representing decades of comics, all kept pristine. Combined with the constant stream of new titles each week, Excalibur is the go-to comic book shop for the hardcore fan.
Newbies should feel welcome too, though, and the friendly and knowledgeable staff defies the aloof-and- condescending comic nerd stereotype. If you want to know the difference between Deadpool and Deathstroke, all you have to do is ask.
2444 SE Hawthorne Blvd.
503-231-7351
Things From Another World
Though the chain is owned by Portland-grown Dark Horse Comics, Things From Another World stocks comics from Marvel, DC and a number of other publishers. Figurines, toys and other licensed merchandise line the walls and eye-level bookshelves. TFAW's focus is definitely on the most popular titles—your Avengers, your Batman, your Walking Dead.
Big events are a regular thing at TFAW, from mini-concerts by geeky locals The Doubleclicks to signings by Fables' Bill Willingham and Hellboy's Mike Mignola.
2916 NE Broadway
503-284-4693
Bridge City Comics
Nominated for the prestigious Will Eisner Spirit of Comics Retailer Award for the last two years, Bridge City is kind of a big deal. It's one of the smaller comics shops in PDX, but it's absolutely packed with great books. This is also the only place in the state you can find ghost variants—special limited edition covers for popular comics like Saga, East of West and The Walking Dead. At least until they sell out.
Being on Mississippi Avenue, Bridge City has some pretty hip neighbors. You can browse vintage video games at CD Game Exchange next door, grab a spinach-and-red-onion slice at Mississippi Pizza and check out the wacky souvenirs at Gumbo Gifts and Gallery, all in the space of a few blocks.
3725 N Mississippi Ave.
503-282-5484
Cosmic Monkey Comics
The cavernous Cosmic Monkey has a special flavor that's hard to put your finger on. Maybe it's the creaky floorboards or the affable, laid-back staff. There's also something to be said for the huge back issue room tucked away in the corner, where you can search out everything from last year's Green Lantern to the 1960s adventures of Superman's pal Jimmy Olsen.
A fantastic food cart pod is now open just down the street from Cosmic Monkey. At the Rose City Food Park you can find everything from gut-busting $5 burritos to delicious chocolate-covered desserts. Garcelan's will even juice up his grilled cheese sandwiches for any comics fans who come in on Wednesdays.
5335 NE Sandy Blvd.
503-517-9050