The five best late-night eateries you may not know about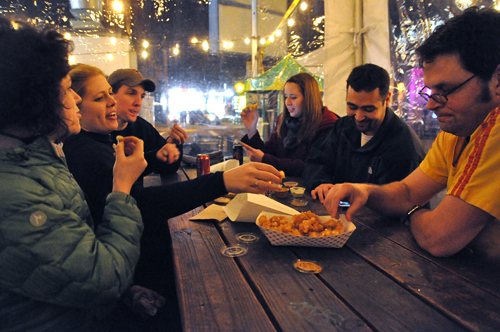 Under rain and gray skies, Portland is alive with food, and people of all gastronomic persuasions are armed with a plethora of options. For those nights out when the pangs of hunger strike, we here at the Vanguard don't want you to be ill-equipped to face them down.
Pine State Biscuits
2204 NE Alberta St.
In an unassuming brick building on Northeast Alberta Street, a staggeringly satisfying addition to the late-night lexicon lies in wait. Known for its out-the-door lines in the morning hours, this fine purveyor of southern-style biscuit sandwiches is a recent enlistee in the after-hours food selection. Though its closing time may be a bit on the early side—1 or 1:30 a.m.—it's worth it to finish your pint and make the trek from one of the nearby bars in time to order a Reggie (discounted during late-night hours) and bask in the ensuing fried chicken, bacon, cheese and gravy sandwiched between buttery, crumbly biscuits.
Hawthorne and Belmont Food Carts
Southeast 12th Avenue and Hawthorne Boulevard,and 4262 SE Belmont St.
Often praised as one of the greatest food scenes in Rose City, food-cart pods should not be overlooked as a late-night food option. These two cart communities are included for both quantitative and qualitative reasons. Open late on the weekends (on a sometimes by-traffic basis, sometimes until 3 a.m.) these carts offer cheese-curd–topped French fries (Potato Champion on Hawthorne), bleu cheese and walnut crêpes (Perierra Crêperie on Hawthorne), and Akevitt-cured, smoked-salmon Lefse wraps with dill crème fraîche, pickled shallot and watercress (Viking Soul Food on Belmont). Close to bars and open nice and late, these food pods are valuable standbys.
The Original HotCake House
1002 SE Powell Blvd.
For those inevitable nights that take you across the river, there is but one option for ultra-classic late-night food. A 24-hour authority, this 55-year-old family-owned establishment offers up traditional diner fare in a classic atmosphere. A jukebox with all the classics, from "Now 17" to Shania Twain's "Come on Over," be-sparkled vinyl chairs and intimate booths feel just right to with a replenishing, greasy plate of bacon and eggs, or the ever-classic single hotcake. With a friendly staff and a large, loving crowd of regulars (not to mention the vastly enjoyable relic of a marquee sign), the Hotcake House is, and has been, a true classic.
The Roxy
1121 SW Stark St.
Back on the west side of the river, this classic, somewhat odd diner in "the heart of the Glamour District" is a downtown institution. Walls covered by quirky accouterments provide fun visual stimuli, and a menu composed of dishes like the "Big Fat Heart Attack Special," the "Quentin Tarantuna Melt" and the "Phil Hartman Memorial Omelette" is good for a few laughs. A paragraph gives no justice to the 24-hour enigmatic Roxy—only a visit will.
Le Happy
1011 NW 16th Ave.
Nestled under the Fremont Bridge (the 405 bridge), this quaint, quiet crêpe, saladand steak haven is on the muted side of after-hours establishments. Dark red walls absorb warm, low light in the small and intimate interior, while the building front glows yellow with stringed bulbs tracing the perimeter. Open until 1:30 a.m. on Friday and Saturday nights, the Chuck Palahniuk-featured, Thermals-recommended Le Happy is a comforting respite from the surrounding industrial district. Oh, and there's a full bar.