On Oct. 8,  PDX Resistance activist and recent Lewis and Clark Law graduate Gregory McKelvey announced on social media that he presented at TEDxMtHood.
The new TEDx speaker later posted photoshopped portraits featuring civil rights-era protesters with modern-day protest slogans while incorporating modern photos of riot police and members of the National Football League kneeling.
How to TED
Portland State students belong to the millions of people around the world destined to watch at least one TED—Technology, Entertainment, and Design—Talk in their academic careers. 
While the TED website states the nonprofit, nonpartisan organization aims toward making innovative ideas accessible, deciphering how to contribute to the TED academic community can be enigmatic.
In a Vanguard interview on Oct. 11, McKelvey recognized the seeming unattainability of presenting with TEDx by crediting his opportunity to "knowing the right person."
"I did an interview for a talk show called Portland Late Night," McKelvey said. "And somebody was in the audience who happened to be a speaker concierge for TEDx and was like, 'Hey, that was great. Can you do a TED talk for us?' And this was in November of last year."
According to McKelvey, the process of preparing for TEDx took an entire year, which consisted of bi-monthly meetings with 12 other nominated TEDx speakers and staying in constant contact with a TEDx concierge. The concierge provides speakers with a packet of deadlines for assignments such as talk titles, optional PowerPoints, the speaker's talk length, a "one-minute preview" of the talk, and then a final one-minute dress rehearsal.
The primary difference between TED and TEDx is that TED holds annual, week-long conferences on the West Coast with lectures on a large range of educational disciplines. The talks can be as long as 18 minutes. According to the TEDx website, "Every TEDx event either shows only TED Talk videos to its audience, or shows both TED Talk videos and live speakers from the community."
TEDx organizer Michelle Jones provided a written clarification to the Vanguard regarding the difference between TED and TEDx on Oct. 19. "…as a TEDx Organizer, I have a license from TED to use their branding and format, but our event [and all TEDx events] are independently organized events put on by all volunteer teams," Jones wrote. "I don't work for or with TED. And no TEDx speakers are TED speakers…"
"Big TED is what the TEDx people call it," McKelvey said. "Big TED watches the first 30 seconds of every TEDx video, and if you make it past that 30 seconds you get sent to the big TED executives."
TED seeks out speakers through TEDx to find "emerging artists, scientists, and thinkers," in addition to speakers who have achieved awards in excellence such as the Nobel Peace Prize, the Pulitzer, or the MacArthur "genius" grant. 
When asked about whether or not participating in TED events cost speakers money, McKelvey explained that none of the speakers in his group had to pay anything at all.
"Big TED has rules for what TEDx can and can't do, and [TEDx] is not allowed to make a profit," McKelvey explained. "Which is weird because tickets are $80. Apparently, it goes into production costs and stuff, but speakers don't get paid, and we don't pay to do it. But I heard that TEDxPortland, you can pay to get in and that's how Homer Williams was going to be giving a talk at TEDxPortland, but then something happened and he canceled the day of."
Ryan Bartholomew with TEDxPortland Media Relations countered the assertion that Williams or anyone else could pay their way into a speaking opportunity.
"I can confirm TedXPortland speakers neither receive compensation for their talks, nor does TEDxPortland accept compensation or payment in exchange for someone taking the stage," Bartholomew wrote in an email. "All speaker selection is objectively handled by the TEDxPortland speaker committee."
One of the big TED's primary rules mentioned by McKelvey includes not being able to use flash cards, a teleprompter, or notes. If any of the speakers break this rule for the TEDx event, then all participating speakers are disqualified from moving on to big TED.
Other "TEDsters" from the Portland area include Amber Starks, Daniel Wilson, Karen Gaffney, and Cameron Smith, an assistant professor of PSU's Department of Anthropology.
Spreading ideas of resistance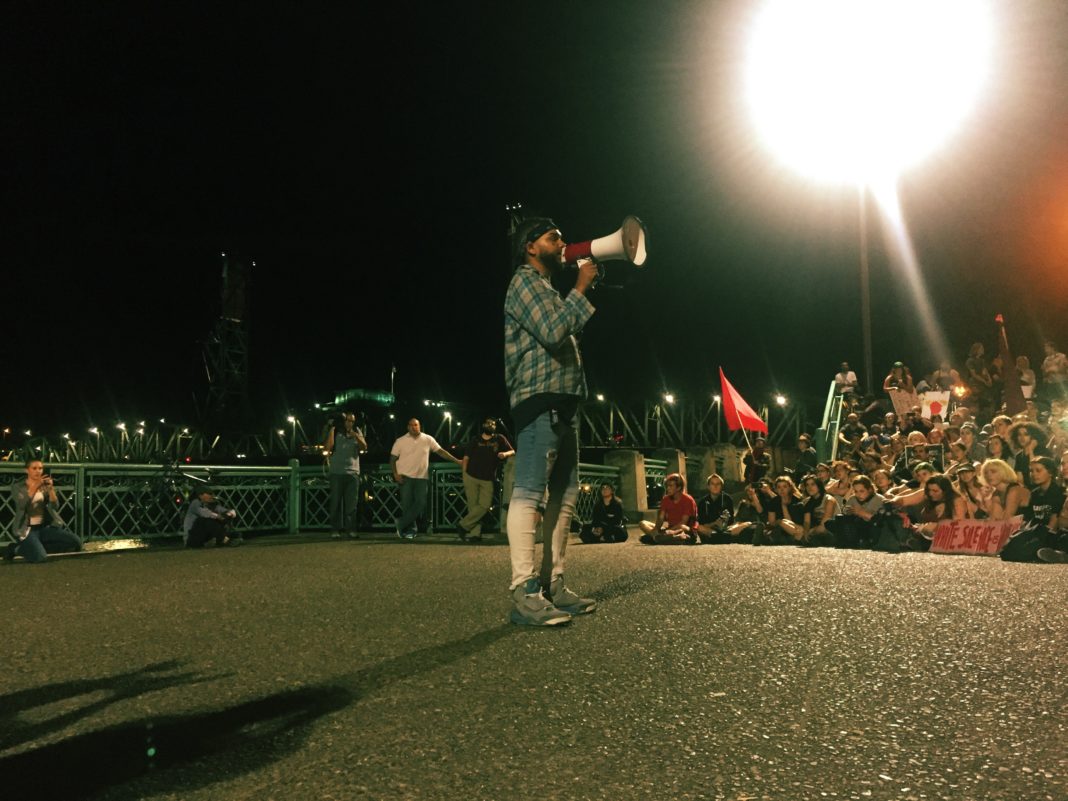 McKelvey, a Portland native, started the PDX Resistance in the fall of his senior year at Lewis and Clark Law School in 2016. Since then, PDX Resistance has held numerous protests around the city and has quickly grown into a large community outreach group beyond street protests.
"My talk was about relating protests now to the protests of the Civil Rights Era, and specifically for [asking] people 'Who do you wanna be in history?'" McKelvey said. "Because the people that had signs saying, 'Segregation Now' end up looking like dicks in the future. You don't want to be that person."
"It's common knowledge now that MLK is supposed to be in this standard of American heroes, but one of the statistics I said at my TED talk was that in 1966 only 36 percent of Americans thought [MLK] was helpful for civil rights," McKelvey added. "So where did the other 64 percent of people go? Obviously, they aren't favorably looked upon in history, you know?"
McKelvey's original TEDx talk involved creating a template on how to throw a protest, but after a couple days, he decided to do something different. 
"[During] my whole Ted talk, I never say Donald Trump's name," McKelvey said. "I never mention leftist or conservative politics or anything like that. Or any policy. I wanted it to be something that, regardless of how you feel about me or anything that I've done, or [if you] know nothing about me, you can say, 'Yeah, it's really hard to disagree with this.' [It's] something a professor could show in a class and it's not incredibly controversial."
McKelvey's TEDx talk is expected to be available by the middle of November 2017.
Ted Talk will be online within a month. I'll post as soon as it is. Thank you for everyone who came to watch! pic.twitter.com/4KKI24fNbG

— Gregory McKelvey (@GregoryMcKelvey) October 8, 2017
Additional reporting on discussions during Oct. 11 interview to follow. 
[Updated Oct. 19, 5:15 p.m. to include response from TEDxPortland's Ryan Bartholomew.]
[Updated Oct. 20, 12:22 p.m. to include clarification about the distinction between TEDx and TED from TEDx organizer Michelle Jones]