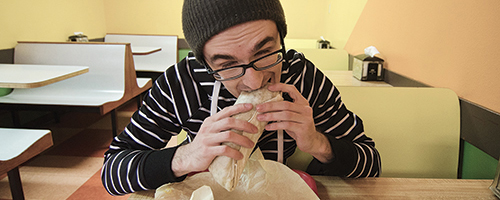 [portfolio_slideshow id=48069]
The witching hour has come and gone. The bars—closed. Food carts—shuttered until morning. Fast food—not unless you have a car. It's late, you're drunk and hungry, and lukewarm convenience-store hot dogs sound about as appetizing as uncooked rice. Where can you go, then, when you've got insatiable cravings? Here are your destinations.

The Roxy
1121 SW Stark St.
The Roxy is an obvious selection. The only thing better than satisfying your late-night munchies is doing so while people-watching at the Roxy, downtown's only 24-hour sit-down diner. Located on Southwest Stark Street between 11th and 12th avenues, it's conveniently close to campus. Drop in anytime after 11 p.m. and you can expect a drunken and boisterous clientele. The staff will hardly be able to contain their enthusiasm for your business, but that only adds to the appeal of the place. Take a seat and enjoy a cup of coffee and traditional American cuisine. Serving everything from chicken fingers to "arrogant" French toast, you'll certainly find that one dish your alcohol-saturated belly or ganja-induced munchies yearn for.

The Original Hotcake House
1002 SE Powell Blvd.
For many, breakfast is the only answer for 2-a.m. hunger. Fortunately, the Original Hotcake House caters to these desires. Portlanders' infatuation with breakfast is evident by the line that greets you upon arrival. Luckily, those in line are probably as drunk as you are, which makes the wait something of an experience in itself. As its name suggests, the hotcakes are where it's at. In addition to these warm, nummy discs, the House has plenty of greasy foods that will satisfy the need-that-fried-goodness craving. Just make sure your appetite can withstand the wait, for at the end of the tunnel is a delicious and satisfying tonic to your insatiable hunger.



Javier's Taco Shop
121 N Lombard St.
Javier's is one of my personal favorites. Though a good distance from downtown, Javier's is a late-night-munchies destination spot. After a drinking binge, the only food more satisfying than breakfast is Mexican. Your options are pretty limited at 1 a.m., so Javier's has quite a corner on the market. Though unassuming from the outside, once you step in you'll join a hodgepodge collection of Portlanders. The atmosphere is bustling, and a fun combination of English and Spanish conversations fill the air. Order up a nice greasy, meaty burrito and rest those weary legs—just be sure to get yourself home safely before the food coma kicks in.
Southeast Grind
1223 SE Powell Blvd.
Southeast Grind is Portland's only 24-hour coffee shop. It's got a fireplace, which makes any establishment that much cooler. In addition to sobering up over a cup of coffee or espresso drink, you'll find a variety of both green and fruit smoothies as well as fresh-made juices. For those seeking to fill their bellies, Southeast Grind has a nice selection of cold and hot sandwiches, wraps, salads and appetizers. Friends recommend the breakfast burrito (a combination of my two favorite late-night munchies). Located at Southeast Powell between 12th and 13th avenues, it's convenient for you Southeasters.

Tik Tok
3330 SE 82nd Ave.
To all the rowdy drunks out there, this place may not be for you. Tik Tok's clientele is a little older than the other places I suggested, but its great food makes it a late-night must-try. When you do, be sure to bring an appetite. To say the portions are "generous" would be an understatement. What also sets this place apart from the rest of the diners is that it has a bar, so if you weren't quite satisfied with your level of intoxication and last call hasn't yet been shouted out, you can achieve your goal upon arrival.
Tik Tok offers breakfast around the clock, with omelets that can also be made with egg substitute for all you vegans out there. I also recommend the Belgian waffle with strawberries or blueberries. Breakfast is only one aspect of the Tok's menu, though. It also offers steaks, burgers, pasta, seafood and desserts. So whether you're in the mood for a giant omelet, a grilled cheese sandwich or chicken fried steak, Tik Tok has what you're after.