Urban Farmer Restaurant is one of the highest-quality sustainable dining experiences in town
Portland is increasingly gaining a reputation as a place where people truly care about their food. Trending pharses in the current dining scene include sustainable meals, food systems, sustainable purchasing, slow food movements, organic grown, homegrown and biodynamic farming. Thanks to Oregon's forward-looking views on the environment and to shows like Portlandia teasing the eating habits of Northwest dinner patrons, Portland is acknowledged by many as one of the leading cities in the area of sustainable restaurants.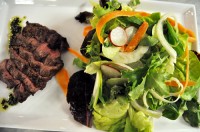 Urban Farmer Restaurant, located on the eighth floor of the Nines Hotel at 525 SW Morrison St., has been open since October 2008. In a few short years, Urban Farmer has become one the most well-known and respected sustainable dining experiences around town.
"Guests appreciate knowing where their food comes from," said David Marsh, general manager of food and beverage operations. "And they also appreciate supporting the local farmers and ranchers and knowing that when you have discretionary dollars to spend, that it does provide people an outlet to have a place like [Urban Farmer Restaurant], as opposed to having a majority of their products shipped to them by someone who is nameless and faceless."
Aside from being blown away by the welcoming ambiance of the restaurant (the dining area has an atrium-like cover with a glass ceiling and a modern western-themed décor) a new visitor will likely be impressed by the amount of investment Urban Farmer puts into their food production and menu.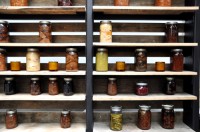 "The thing that's most rewarding is the opportunity to build relationships with our vendors," Marsh said. "One of the big ranchers that we use for a lot of products has become a true friend. It becomes a true partnership at that point…as opposed to being just transactional it becomes a relationship and a friendship, and they help drive the business because they have an incremental benefit to the growth of it."
Urban Farmer gets their food from a diverse selection of local vendors and farmers. Executive Chef Matt Christianson estimates that the kitchen is visited by 50–60 different purveyors in a given week, as opposed to many restaurants that get a majority of their food from large broad-line distributing companies.
"It's a lot more work to provide [sustainability], an investment in time and money," Christianson said. "But we believe that it translates to the experience that the guest is going to have in the dinng room—they will taste the difference."
For instance, a couple years ago Urban Farmer started offering a beef called Cascade Red, which was the first new breed of cattle introduced to the U.S. in 47 years. The cattle was bred at the local Basque Ranch and is a Red Angus/Pinzgauer cross, meaning the animal has the grazing capabilities of a Pinzgauer but also the composure of an Angus.
"You get the best of both worlds: You get an animal that's best at free-ranging itself and then it gains fat and flavor like an Angus does," Christianson added.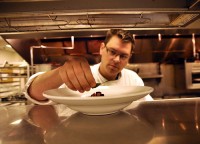 Urban Farmer's menu changes with the season, as they are more restricted by what the local famers in the area are producing. Although the core menu items, such as steak, are always available, how the dish is garnished or presented can change on the season. Currently, the chefs are emphasizing seafood dishes, such as the Alaskan king crab legs, scallops or Walleye pike, and are getting excited about harvesting local fall produce such as squash, gourds and mushrooms.
Along with progressive dining options, Urban Farmer offers a well-priced happy hour menu, including daily cocktails and wine specials. There is a wine list with more than 200 varieties of Northwest wine and a gourmet cheese cart that visits each table to offer a fromage that will complement your meal or beverage.
"When you engage people," Christianson said, "they become more appreciative of the food and the dining experience overall."